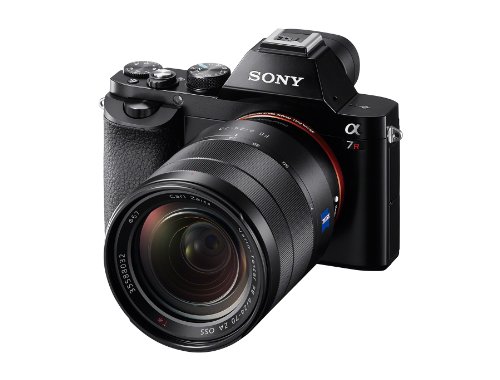 Sony won so many awards last year, we didn't post on or see all of them. The list includes the universally-praised α7R II to the low-light α7s II, the α7 II, the FE 90mm F2.8 Macro G OSS lens, RX1R II and RX100 IV compacts and the RX10 II.
Best Camera of 2015-α7R II-Digital Trends
"We knew, when we first put this camera up to our eye, that it'd be our camera of the year. Version after version, Sony continues to churn out impressive shooters in its α7-series of mirrorless full-frame cameras, but the α7R II, and the technology that Sony managed to cram inside the compact (for a full-frame camera, that is) body, deserves recognition and respect."-Digital Trends
Cameras Of The Year-α7R II-B&H Photo Explora Blog
"And not just because everybody put the Sony Alpha α7R II on their list! Its 42MP full-frame BSI sensor, 399 autofocus points, high ISO, Internal UHD 4K video, reduced vibration shutter and beefier body are just some of the reasons that this iteration of the now "legendary" camera series has taken photographers by storm. Those who joined the Sony full-frame mirrorless caravan on its first pass through town are delighted with the improvements that Sony gave this model, and those who were clinging to their DSLRs until a "worthy" camera came along have been convinced to make the mirrorless move to this camera."-Explora 
Best Overall Camera Of The Year-α7R II-Imaging Resource
"Like its predecessor, the Sony α7R II is a groundbreaking camera, and redefines what is possible in a full-frame mirrorless camera body. For the first time in an "R"-series α7 body, there's phase-detection autofocus. Jam-packed with no less than 399 focus points covering most of the image frame, the α7R II provides swift, accurate autofocus lock and capable tracking, even with adapted Alpha-mount or third-party lenses."-Imaging Resource
Best Camera Of The Year-α7R II-The Camera Store TV
Chris Niccolls and Jordan Drake talk through the best and worst gear of 2015 in their own unique, outspoken and sometimes irreverent way and they name the Sony α7R II as the best camera of the year.-The Camera Store TV
Gear Of The Year 2015-α7R II-National Geographic Adventure
"The Sony Alpha 7R II may be the first camera that has pros seriously considering abandoning DSLRs in favor of smaller, lighter, quieter mirrorless systems. This compact, full-frame shooter has a huge 42-megapixel sensor that captures extremely large files, either in RAW or JPEG format, enabling superhigh-resolution images—as well as the ability to crop and still get print-quality shots."-National Geographic Adventure
European Professional Compact System Camera 2015-2016-α7 II-EISA (European Imaging and Sound Association)
"The α7 II is a full frame CSC of true professional quality that brings strong competition to DSLR systems and offers huge imaging potential in a lightweight body. The 24-million-pixel full frame sensor brings excellent dynamic range coupled with low noise at high ISO settings, and the hybrid AF system gives fast, accurate focusing. The magnesium body and new hand-grip revolutionises the feel and operation over its predecessor, while the built-in 5-axis image stabilisation is extremely advantageous if you shoot handheld, especially with close-ups and slow shutter speeds. This all makes the α7 II a serious alternative to a full frame DSLR."-EISA
Best Low Light Camera Of The Year-α7s II-Imaging Resource
"With the α7S II, Sony takes a different road, fielding a camera whose raison d'être is sensitivity. Like last year's α7S, the Sony α7S II opts for a relatively low — and yet arguably still sufficient for many purposes — twelve megapixel sensor with comparatively huge, light-hungry pixels."-Imaging Resource
Top 12 Best Premium Mirrorless Compact System Cameras 2015-α7R II-ephotozine
"The 42.4 megapixel Sony Alpha α7R Mark II offers a backlit full-frame CMOS sensor, 4K video recording, 5-axis sensor based image stabilisation, ISO50 to ISO102400, 5fps continuous shooting, and a tilting 3inch screen. There is a large, high resolution electronic viewfinder (2.36m dots), and built in Wi-Fi."-ephotozine
Pop Awards of 2015-α7R II-PopPhoto
"Capitalizing on the success of the 7R, Sony's sophomore release of this interchangeable-lens compact camera integrates the first ever back-side illuminated full-frame sensor into an ILC. Improving upon its predecessor, the II has a redesigned shutter mechanism that reduces vibration and adds five-axis image stabilization. And with its 42MP output and ISOs ranging from 50 to 102,400, we were impressed with the resolution, color accuracy, and overall image quality of this tiny but powerful game-changer."-PopPhoto
Top 10 Compact Cameras For Travelers-α7R II-National Geographic Traveler
"If you like to make big prints and want a full-frame sensor but in a slightly smaller, mirrorless format, then this is a good choice. It's not quite as portable as the others on this list because the full-size sensor requires Sony's full-size lenses, but it's still a noticeable reduction in bulk, with 42.4 megapixels of image-capturing goodness."-National Geographic Traveler
Best Travel Cameras Of 2015-α7R II-Switchback Travel
"[I]t's hands down the best mirrorless interchangeable-lens camera on the market. This 2015 successor to the original α7R takes the strongpoints of the old version—a compact size and massive full-frame image sensor—and hones in the things that matter. The camera features an extremely impressive 42.4-megapixel back-illuminated image sensor, 4K video, improved low light performance, and built-in image stabilization. You also get weather sealing and a reinforced lens mount that can take on larger lenses."-Switchback Travel
European Compact System Lens 2015-2016-Sony FE 90mm F2.8 Macro G OSS -EISA (European Imaging and Sound Association)
"The Sony FE 90mm F2.8 Macro G OSS is probably the best lens of its type, giving some of the finest test results EISA's experts have ever seen. It is incredibly sharp, even into the corners of the image at maximum aperture, and has minimal distortion or chromatic aberration. The level of contrast it produces makes for some great pictures and at f/2.8 it produces beautifully rendered bokeh, with smooth tonal gradations, thanks to the rounded aperture blades. With sturdy build quality, silent focusing and effective optical stabilisation, it's a lens of the very highest quality."-EISA
Gear Of The Year Barney's Choice-RX1R II-DPReview
"Just aesthetically, I really like the RX1R II, and it's a camera that tends to attract admiring glances when I'm out shooting. Like the Fujifilm X100S, more than a few people have commented to me that it looks like a film camera, but the semi-retro styling doesn't come at the expense of usability (keep walking, Nikon Df…). Cosmetics aside, the RX1R II also produces great images, exactly as we'd expect from a camera using such a high-quality sensor. Like recent α7-series cameras, Sony has included an uncompressed Raw option in the RX1R II."- DPReview
Best Enthusiast Zoom-RX10 II-Imaging Resource
"Like many long-zoom cameras, the RX10 II's styling certainly reinforces that perception, but underneath its skin this isn't a DSLR, but one seriously impressive fixed-lens enthusiast zoom."-Imaging Resource
Best Premium Compact Camera-RX100 IV-Imaging Resource
"Perhaps the coolest new features of the Sony RX100 IV can be found in the video department, though. For one thing, you can now shoot ultra high-definition 4K video clips completely in-camera. Even more impressively, you can now capture extreme slow-motion video at rates up to 40x, letting the RX100 IV go beyond most other compact cameras."-Imaging Resource
Best Enthusiast Fixed Lens Camera-RX1R II-Imaging Resource
"The Sony RX1R II changes all that, consolidating two separate products into a single camera with even more astounding resolution than either of its predecessors. And when it comes time to make the tradeoff between resolution or moiré resistance, you can do so with a couple of button presses thanks to a groundbreaking variable low-pass filter function found in no other camera on the market."-Imaging Resource
…
My daily shooter is Sony a9 II with a vertical grip and various Sony lenses attached like the FE 20mm F1.8. Find more gear recommendations in our shop. As an Amazon Associate I earn from qualifying purchases.