When I was about seven years old, my father (a commercial photographer) gave me a Nikon EL SLR camera. I was probably the only kid in grade school taking pictures with a 35mm camera, and certainly the only kid that was developing film in a darkroom. For more than three decades I've been shooting one form of Single Lens Reflex Camera or another. (And even though I shoot with an a7R, I still have Nikon gear and tons of Nikkor lenses.)
As a long time SLR photographer and a professional product reviewer, the explosion of the mirrorless market left me a bit skeptical. The first selection of cameras and lenses weren't nearly on par with full on professional gear and so any mirrorless gear I was testing largely acted as a backup body, something I could throw in a messenger bag so that I could take photos of my son without having to take a Nikon D3s with me everywhere I went.
Two years ago that all changed for me when I did a job for NBC working on America's Got Talent as a social media photographer.  My assignment was to follow the contestants around and capture them backstage on the days they performed. The show was filmed at Radio City Music Hall, which is a union shop, and one of the rules of the theater is that only union photographers could shoot with "professional" gear.
The shoot coincided with a period when I was doing a lot of reviews for DPReview.com and Digital Photo Pro, and I had a constant stream of Olympus, Panasonic and Sony cameras coming in. Each week I'd bring a new camera and do a review by only shooting with the new system, and making notes of the pros and cons of shooting blind with a new system.
At first I was disappointed that I couldn't bring my pro gear with me—after all a professional photographer likes to have professional gear. But soon I started to notice some powerful things about mirrorless cameras.
The first, and by far the most important thing I noticed was that people weren't intimidated by my cameras. Many of the people competing on AGT are kids, and most of the rest of them are inexperienced performers. The lights and the TV cameras are already new and scary to them, and I'd watch as the reality TV crews came around as they'd tense up and stop being themselves.
With mirrorless gear I was able to approach the contestants more easily. Instead of pointing a pro body with a 24-70mm lens at them, I was able to capture images with a NEX system and a pancake lens. Because the system was so small and light, not only did contestants not panic but they'd ham for the camera. They treated me (a stranger) with a mirrorless cameras the same way they might treat a friend with a camera phone.
As the weeks wore on, the contestants got even more comfortable with me and stopped seeing the camera and just carried on with their horsing around and joking with each other. The photos got better and better.
On the last day of the shoot I cheated a bit and brought in a pro camera, in order to take a portrait of one of the contestants using a specific lens and by then everyone was treating me as part of their world and they totally ignored the fact that I had a big camera with me.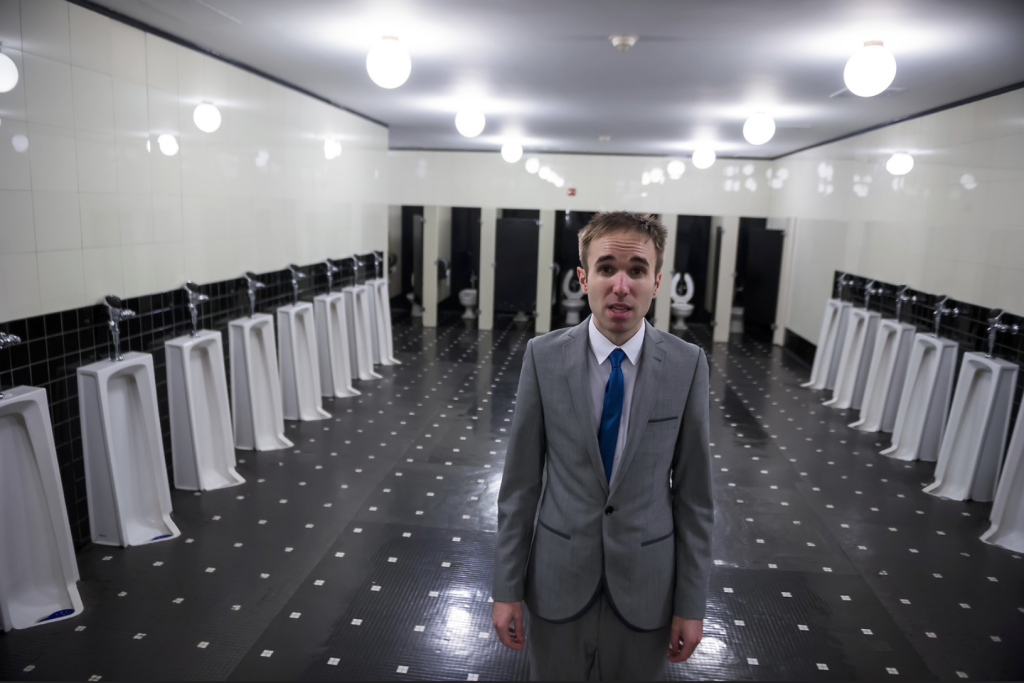 Of course shooting with consumer-level mirrorless systems wasn't perfect. Many of the cameras I wast testing weren't designed for fast autofocus or good performance under low light, two important factors when you're tying to photograph people in dimly-lit holding rooms and back stage at a theater. The lack of high-end lenses also hamstrung me, there was very little ability to blur out a background with some of the kit lens I was using, and the result was a lot of photos with distracting objects behind the subject.
The best experience I had was with a Sony NEX system, and the a7 wouldn't be announced until a month or so after AGT ended. The APS-C sensor really improved the quality of the images in poor conditions and the face detection AF was spot-on, allowing me to concentrate more on competition and less on focusing.
When Sony announced the a7 and a7R after my AGT assignment had ended I was already onboard. The idea of carrying around professional level equipment in a consumer-sized package was hugely appealing to me. I haven't ditched my DSLR gear, but I use the a7R on the majority of my shoots now, and it goes with me everywhere I go.
There is a drawback to shooting with a small system (other than the limitations of the AF and processing speeds relative to a pro DSLR) which is that "professional" photographers don't take you seriously when you show up at a media event with a compact camera. It doesn't matter the sensor size or dynamic range or image quality, you're not taken seriously at a media event unless you're lugging twenty pounds of camera gear on your shoulders. Since I grew up around my father's Leica cameras, I'm not really bothered by this. I grew up knowing that it's the final image that's important, not the size of the box capturing the image.
Mirrorless system cameras still have a long way to go to meet the same level of performance of pro DSLR cameras, but for many shoots they're already the perfect tool. Especially if you don't happen to be a union photographer.
…
My daily shooter is Sony A1 with a vertical grip and various Sony lenses attached like the FE 20mm F1.8. Find more gear recommendations in our shop. As an Amazon Associate I earn from qualifying purchases.