My Digital Photography Mag cover story just dropped online, print, in app, and at a bookstore near you. The photo is from a shoot earlier this year at Trestle Bike Park, I was there this summer as a guest of Winter Park, to ride in the Mountain Bike Capital of the USA.
The photo made the cover and works because I was writing about a compact, professional Sony Mirrorless camera, the a7R.
I took shot after shot with my diminutive camera — the mountain bikers riding through a rock garden barely noticed me. Maybe they guessed I was a tourist? The result was that I was able to get intimate, in-the-moment shots without sticking a long camera lens in their faces and making them self-conscious.
She's doing what any local Colorado MTB pro would do, looking at her line ahead through a tricky rock garden, and not at me. Maybe she guessed I was a tourist? Never saw here again to ask, but the result was that I was able to get intimate, in-the-moment shots without sticking a long camera lens in her face and making her self-conscious, or interrupting the flow.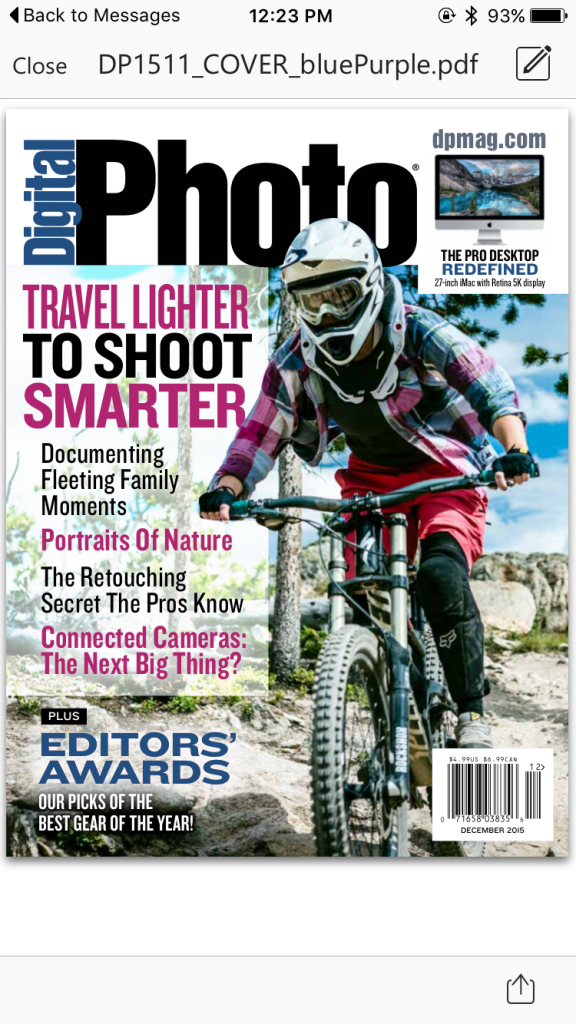 The rest of the story is about how fully mobile photography has changed the game for travel photographers and for photographers to find out how they can make their shoots better, too. For me, it was the result of lots of hard work, pushing mirrorless tech AND I rode that section of trail too, after the shoot.
As a roadie, rock gardens aren't really my thing, but with lines proven by my guides, I saddled up, sucked it up, and rode it with a compact Sony stuffed in a backpack. The minimalism follows a tip I learned and shared from Steve Martin, a trick actually
One trick I do comes from the Steve Martin movie L.A. Story. The main character's girlfriend is a stylist who advises, "One of the first things I always teach my clients is about the point system. You should never have more than seven things on. You know, like your earrings count for two points, those daisies count for three points. But the best thing to do is, right before you go out, look in the mirror and turn around real fast, and the first thing that catches your eye, get rid of it."
Trestle Bike Park is a unique mountain biking location in the States because it offers a complete downhill program for vacationers, novices, and expert mountain bikers. Just like skis or boards during the winter, there are rentals, demos, guides, and instructions available with 3 lifts and 59 trail sections to ride all day long. Besides the photos, we had lots of fun, challenged ourselves, and even partied with the band.
Met another photographer too, he wore a red onesie, guess that's a Colorado thing.
…
My daily shooter is Sony a9 II with a vertical grip and various Sony lenses attached like the FE 20mm F1.8. Find more gear recommendations in our shop. As an Amazon Associate I earn from qualifying purchases.