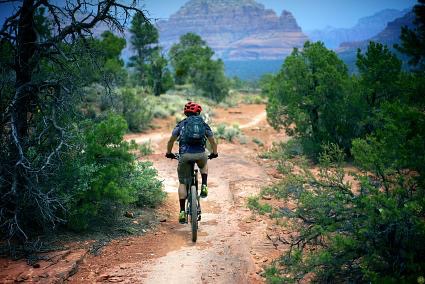 This article originally ran on Bike Hugger.
The Sony a7R is a thoughtful camera and one I took with me for a weekend in Sedona. Where I rode, visited a stupa, tasted wine, beer, and Scotch. It's not even Summer yet and the livin' was easy…'cept for the fires that wrapped the area in a haze.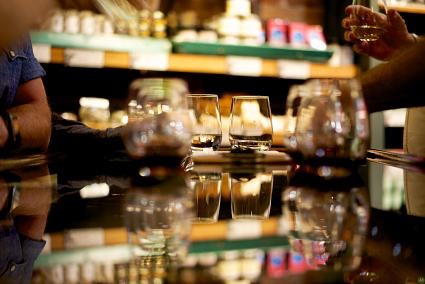 Wine tasting in Jerome at Maynard's winery
From the worst lighting conditions imaginable – smoke and harsh midday sun – I took these photos and why our photo editor David Schloss said, "this ain't your Father's camera."
Nope, no it ain't or your Mothers, and what I want to share is that my quest for the "perfect street camera," is nearly complete with the Sony. I had a full-frame, compact camera in my Camelbak on the MTB rides and in a Niko around town.
There was never a time when I thought, "so sick of carrying this camera and lenses like I did with SLR gear," or, "wish I'd got a better photo." As David wrote for us about the A7R, "the SLR is dead," or more apropos for me, this is what I thought I could do with a Micro 4/3. I could, but the image quality was what you'd expect from a small sensor.
The thoughtfulness comes from composing the shot, getting it focused (the A7R uses contrast instead of phase detect focus, read more about that topic here), reducing or increasing the exposure, holding the camera steady, and snap with the loud scheelunk sound. 36 megapixels is a lot of sensor to fill and the light captured had me very excited at times. Like the "red-rock" shot of the trip, taken by @mzsitka outside the rental car window while driving into town.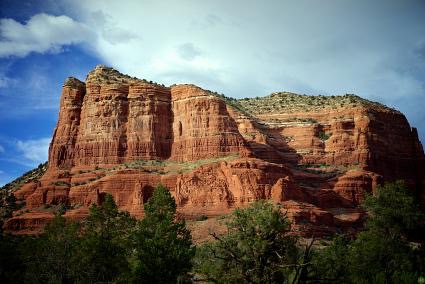 Pokey and Rocky
The riding in Sedona was technical and rocky. I'd never ridden rocks like that and it was a bit nerve wracking with no flow. Just rocks. On a double-black descent, I decided by a committee of myself to walk the 17 drops in a row and was ok with it. The terrain was pokey too. Everything you touch, bump, or brush in Sedona is sharp, like a dry pokey needle. Stay on the trail, I learned, with elbows in tight, eyes ahead to the next obstacle.
Scott Spark 910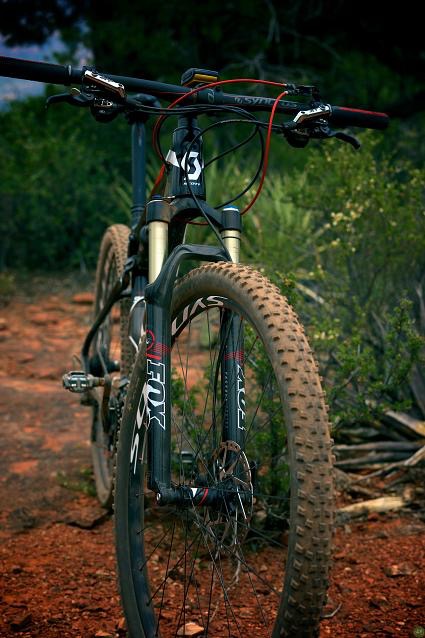 The Scott Spark 910 is one of the lightest, and most adaptable full suspension frames on the market. I asked Phil, who publishes Switchback Magazine, what he thought of the bike I was riding and he replied
I like the Scott Spark so much, I'm actually building one up as my race bike for Leadville and few other endurance races. Hoping to get it under 20 lbs.
That's doable and the demo I rode had just enough travel for the terrain with XT and at 24 lbs. Because of the fires and smoke, we didn't do the epic rides Sedona is known for like Highline or Hangover. Staying low out of the smoke was better on the lungs and we still had lots of fun near Bell Rock and in the trees of the Coconino National Forest.
We stayed at the Amara resort where Kimpton has bikes you can ride in the city. They're waiting for you in a town with a bike lane on every street, as well as the single track trails. The shops in town like Bike and Bean or Absolute Bikes rent bikes too.
Some routes we rode aren't even mapped yet and I want to ride them again. Get some rock-riding skills and take more photos. We didn't find any vortexes, even after hearing there are luxury and economy versions. We blamed the smoke. It diffuses the energy.
For more photos from this trip see a storied version, the full gallery, and a shooters review of the Sony A7R by our own David Schloss for Image Resource.
The A7 was named by other media the camera of the year in 2013, so there are hundreds of reviews. The most relevant of those I read before writing my take include
PetaPixel – on focusing and why the camera may look like a point and shoot but it ain't.
David's review included this line
This sort of technological jump is massive because the amount of fun had on a bike ride is inversely proportional to the weight of camera gear transported by the rider.
During a 4-hour MTB ride in Sedona with a full-frame, pro camera in a Camelbak, I didn't even notice the weight. Instead, I considered the next photo, clearing a rock garden, and how Sedona is about to blow up for second homes, pre-retirement, and good riding.
Also the Spark didn't get in my way either, just confidently took me to the next location, like this dry creek bed.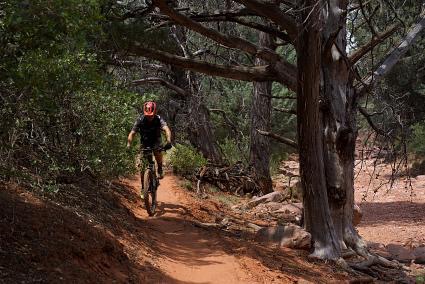 Product
Feature
List Price
Sony a7R Full-Frame Interchangeable Digital Lens Camera – Body Only
36.4 MP full frame CMOS sensor without an anti-aliasing/OLP filter
Up to 4 FPS in Speed Priority Continuous shooting
ISO 100-25600(AUTO ISO 100-6400)
1080/60p/24p HD video (AVCHD/MP4)
3″ tiltable LCD with 921,600 dots
1/2-inch XGA OLED color electronic viewfinder with 2.4M dots
Raw and Raw + JPEG shooting
Multi-interface shoe (optional external flash sold separately)
Wi-Fi and NFC connectivity
SD/SDHC/SDXC/Memory Stick Pro Duo card slot
Compatible lenses: Sony E-mount Full Frame, operation with Minolta/Konica Minolta Maxxum A-mount lenses confirmed via optional LA-EA3/LA-EA4 adapter
$2,298.00
Sony Alpha a7S Compact Interchangeable Lens Digital Camera
Screen Size: 3″
Screen Features: Tiltable TFT-LCD with 921K dots
Megapixels: 12.2MP
Image Resolution: 4240 x 2832
Optical Zoom: Not Available
$2,498.00
Sony Alpha a7II Interchangeable Digital Lens Camera – Body Only
World's first 5-axis in-body image stabilization in a full-frame camera.
Use your favorite lenses without blur from camera shake.
Capture stunning images with full-frame, 24.3MP resolution.
Fast hybrid AF with phase-detection – 30% faster than a7.
Compatible with Sony's E-mount lenses, and others with adaptors.
$1,698.00
…
My daily shooter is Sony A1 with a vertical grip and various Sony lenses attached like the FE 20mm F1.8. Find more gear recommendations in our shop. As an Amazon Associate I earn from qualifying purchases.