My story from the November print issue of Digital Photo Pro is now online. It's about social influencers and Instagram and begins with this lede
It's not the influence that matters, but your work
and continues with a discussion about the type of photographer social influencers should aspire to be, "The goal for the client, when hiring talent like Instagrammers, is to reach their enormous following." A client pays for access to an audience and the skills, the aesthetic. Because Instagram, via Face- book, offers metrics, they can count the likes and comments, and analyze the "insights" on the campaign.
Create Good Work
What I'm saying in the piece is that chasing a career as a social media influencer might be a misplaced goal, but by creating good work, generating large followings and actively seeking relationships with clients, it's possible to use the social media clout to make one's work more visible and demonstrate the ability to deliver in a world of instant gratification.
A long-term career with reliable clients is better than a one-time, all-expenses paid trip to Belize any day.
For sure….
And, speaking of trips, the photos in the article by Pei Ketron reminded me of a trip I took recently to Singapore and the photos I took. Pei was at the Marina Bay Sans with ANA and I was with another airline on a junket reviewing the Sony RX10 III for Shutterbug earlier this year.
The lighting was never quite right for a pool shot, but here's a frame of it I took as the sun set.
My fav photo from the trip is of a Tai Chi master in front of a storm. She's on the same deck as the pool, at the bow of "the ship."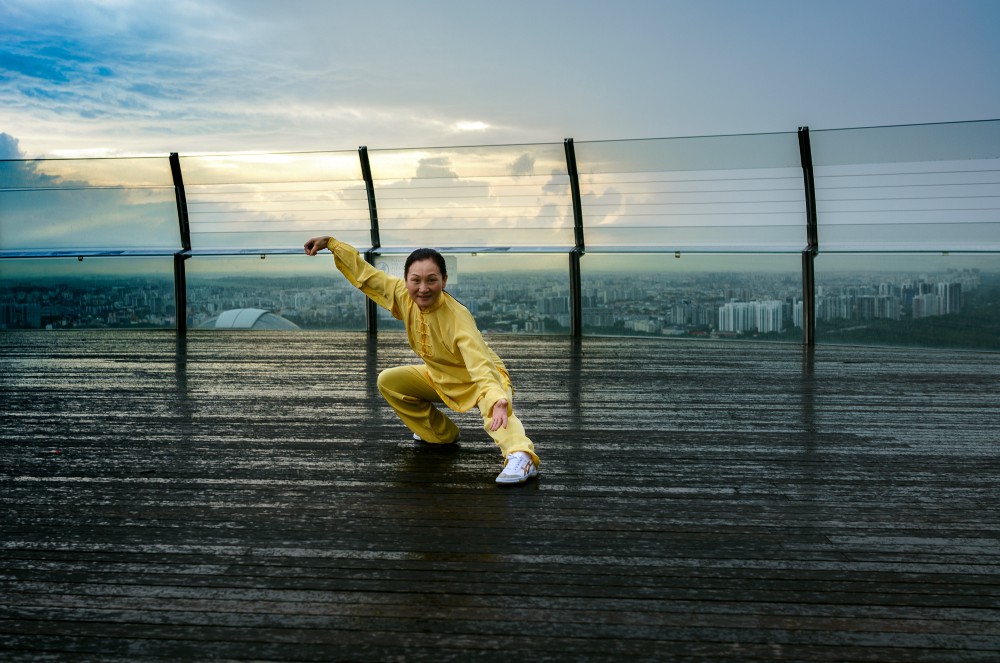 …
My daily shooter is Sony a9 II with a vertical grip and various Sony lenses attached like the FE 20mm F1.8. Find more gear recommendations in our shop. As an Amazon Associate I earn from qualifying purchases.