This review by David Schloss originally ran on the website of our content partner Digital Photo Pro, and runs abridged here. For the complete article with sample images, visit their website. It's shared here, with inline notes, because the Pentax K1 was built around a Sony-designed 36 MP sensor and I was with David during the shoot.
To say that Pentax shooters (Pentaxians, as some call themselves) were rabidly anticipating the new Pentax K-1—the company's first full-frame digital camera–would be an understatement. When the company first started indicating that a new camera was coming with the launch of a full-frame lens (when they only had APS-C cameras available) months ago, the speculation about a new camera reached a fever pitch. For die-hard Pentaxians and new customers alike, the company didn't disappoint with the new Pentax K-1, and at the WPPI trade show in Las Vegas this week, I was one of just a few journalists to play with a pre-production K1.
Ed note: Like a kid waiting for his turn, I stood close to David, impatiently wanting to try it too. It's heft means business, all business.
The camera, with a Sony-designed 36 MP sensor and a host of "why didn't I think of that?" features was dropped in my hands with a 24-70mm f/2.8 lens and the solidity of the camera was instantly noticeable. With 87 points of moisture and dust sealing, the camera is built, as Outdoor Photographer editor Wes Pitts said, "like a tank, but in a good way."
In the March issue of Digital Photo, I ask why camera companies aren't taking advantage of technology in the same way that smartphone manufacturers are. Why doesn't every camera have built-in WiFi and GPS, better user interfaces and better control systems?
Ed note: agreed on this point, sure wish my files were auto geotagged and time stamped.
Pentax delivered many of the features I wished for in the K-1, and took some up a notch as well. The camera has built-in GPS, and an electronic compass that lets the camera log the direction of any image, while the sensor-based image stabilization system with it's accelerometer and electronic level can determine the angle of the camera during shooting.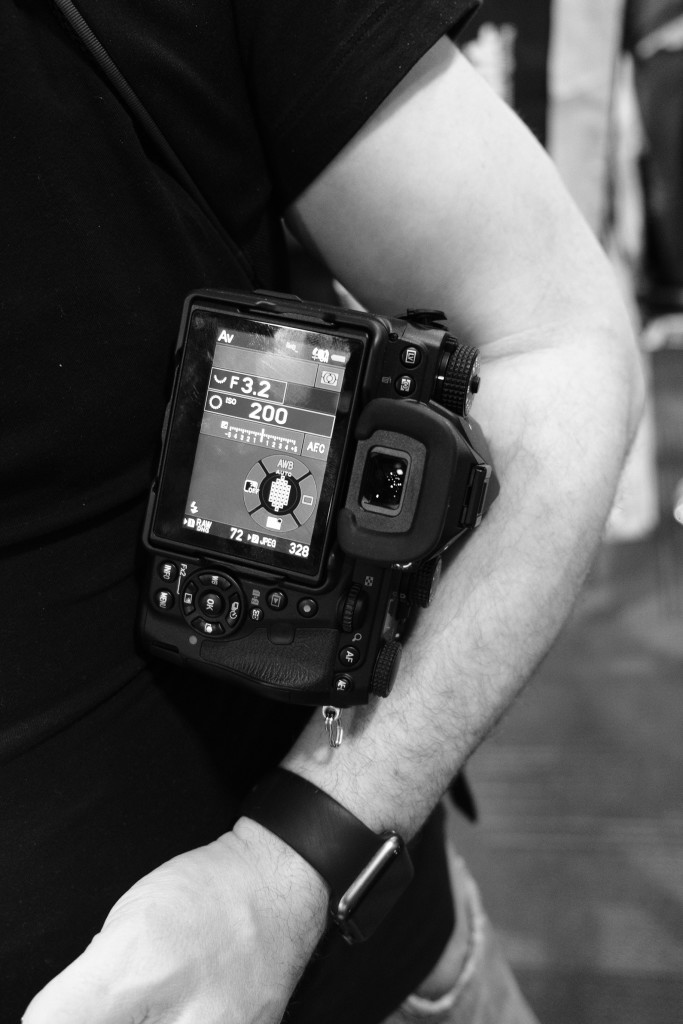 Ed note: another versatile features is the spring-loaded, posable rear display that moves like Kung-Fu Panda. 
That image-stabilized system, which is based on a magnetically controlled sensor, can be used in other incredible ways as well. It allows for panned images with greater clarity because the accelerometer talks to the image stabilization sensor, and accounts for shooter motion and moves the sensor accordingly.
While sample JPEG images from this pre-production camera were a touch flat, the raw files were not. Pentax confirmed this and mentioned that the "natural" JPEG in the final system will be more saturated than the pre-production units.
A noon shoot meant that I'd be doing a good bit of shooting in harsh, direct sun, but the camera held up and created images that were well-saturated and vibrant. When shooting portraits in open shade, the image quality from the K-1 was exceptional and the 24-70mm lens created a soft background blur that's not as pronounced as something like an f/1.8 lens would be, but much better than many similar zooms I've looked at.
Ed note: an outtake from the shoot with David and Joseph on the Strip.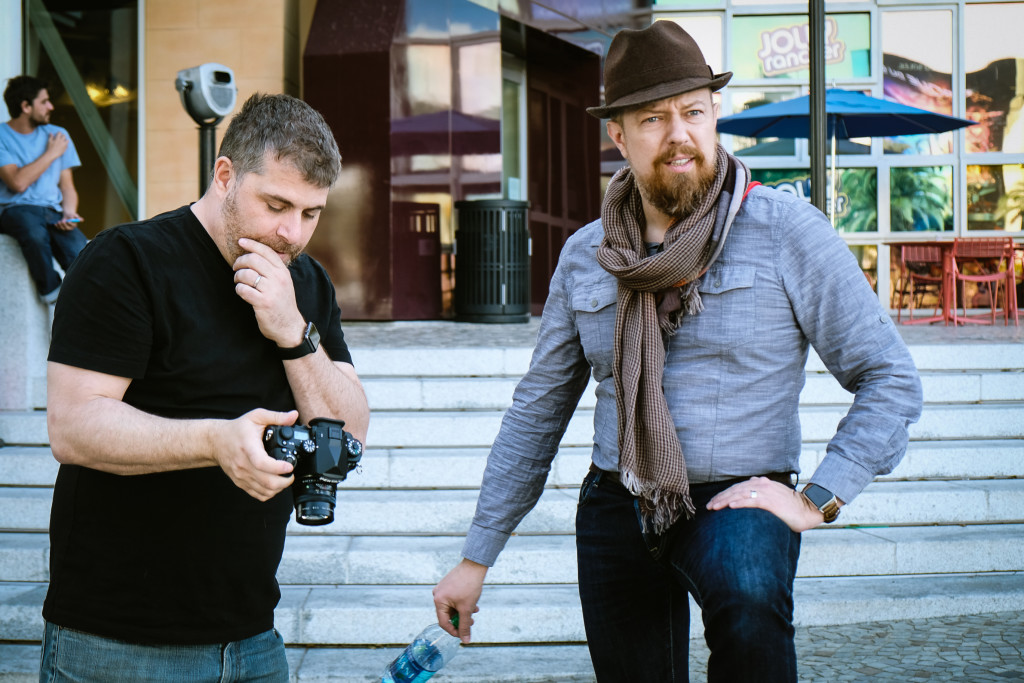 As the sun set, I headed to the room of my friend, photographer Sara France, and she modeled for me as the desert sky turned to a glowing, royal blue. Lacking any lighting equipment, we lugged a (heavy) floor lamp out to the balcony and illuminated the scene with tungsten light in the foreground and sunset glow in the background, and the camera managed to make the skin tones pop while also capturing the richness of the Vegas skyline.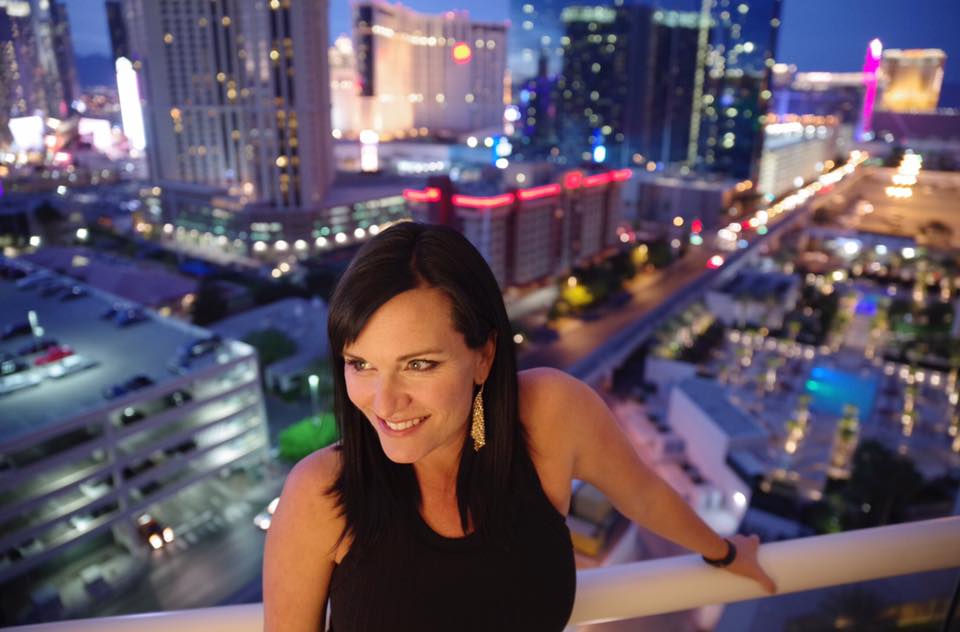 Pentax shooters that have been looking forward to this camera now have a reward for their loyalty, and shooters looking for a powerful and well-designed full-frame DSLR now have a new option.
Ed note: Admittedly, as a Sony shooter I was intrigued by this tank of a camera, because the shots looked familiar in post. It's also very interesting to see how Sony's tech performs in another body and image processor with desirable features like built-in GPS and an accelerometer.
Specs
36.4MP Full-Frame CMOS Sensor
PRIME IV Image Processor
3.2″ Cross-Tilt LCD Monitor
Full HD 1080p30 Video Recording
SAFOX 12 33-Point AF Sensor
Native ISO 204800; 4.5 fps Shooting
5-Axis In-Body Shake Reduction
Super Resolution & AstroTracer Modes
Built-In Wi-Fi & GPS; Dual SD Card Slots
Weather-Sealed Magnesium Alloy Body
Pricing
The Pentax K-1 is expected to ship in late April with a list price of 1796.95, which places is between the a6300 and A7S or A7R pricing.
…
My daily shooter is Sony A1 with a vertical grip and various Sony lenses attached like the FE 20mm F1.8. Find more gear recommendations in our shop. As an Amazon Associate I earn from qualifying purchases.