On assignment for Digital Photo and Sony Mirrorless Pro, attended a wedding photographer trade show
The families of the bride and groom shushed the crowd of strangers over the PA, repeatedly. We were at a party in Vegas, a wedding photographer show, and a marriage was the entertainment — for real, this couple got hitched at a Sony-sponsored party. Of all the random things I've seen in Vegas, this event had the most randomness. There were conference attendees, family, friends, strangers, hangers on, Greek Elvis, and pro photographers with the latest gear. Like the Pentax K-1, FujiFilm X-Pro2, and Sony RX1R II we had with us. There was a showgirl with a horse head too.
So…when in Rome, right? Oh and when I arrived a Sony tech demanded the camera while I went to the bar. He set up digital-manual focus with smile and face detect, and set the peaking level to high (focus peaking highlights areas in focus and DMF zooms in on the areas as you turn the focus dial; once you get the hang of it, far less shots are missed in challenging conditions, and especially when the camera is detecting faces).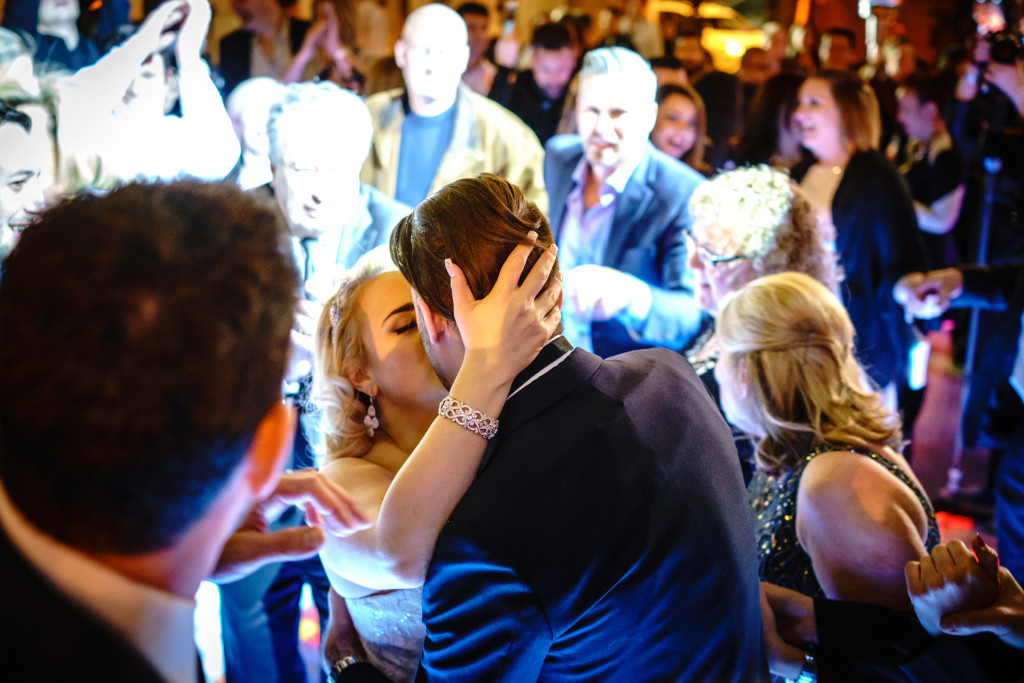 Having zero experience with weddings and really just there for the party, I starting shooting with a beer in hand. The results speak for themselves. The moments captured are remarkable for the focus and image quality. Suddenly I became a wedding photographer through an intense immersion technique or photography trial by fire, by way of the conference. I was like, "What's next, BABIES?" Bring 'em out bitches! Glamor shots, red-carpet celebs, or how 'bout some portraits of pregnant women while fire walking!
Straight up though, that was all the camera and Sony technology. What I did was get into the action on the dance floor, sensed the mood of the crowd, and pointed the camera in their direction. In another odd series of events, I found myself seated on a bus filled with Peruvians who took selfies at regular intervals, as we headed towards what I hoped was my hotel. It was! Then I fell asleep, knowing I had one helluva story for the next morning, and an SD card filled with images.
Returning to civilian life and normalcy in Seattle, I'm sharing these photos, before a weekend back on the bike. Like the last time covering a cyclocross race, sometimes what happens in Vegas follows you home, and that experience may lead to shooting a wedding for real sometime.
I've learned as a photographer to never say never. There are always moments in need of a witness.  If you'd like to try your luck at a wedding like I did, with a pro, compact camera that shoots full frame, the RX1R II ships from Amazon for $3299.00.
View the full-rez images on Flickr.
…
My daily shooter is Sony A1 with a vertical grip and various Sony lenses attached like the FE 20mm F1.8. Find more gear recommendations in our shop. As an Amazon Associate I earn from qualifying purchases.