I've updated Lightroom 5.7 to version 6, although my copy is via the Creative Cloud subscription and released a few hours after the official release date/time form Adobe (just before their servers suffered from a bit of a swap of requests).
The download for the stand alone version however has been tricky to find. Quite a few fellow photographers have messaged me to ask where the link is so I thought I would do a quick post.
Instructions
Go to the Lightroom page on Adobe's website: https://creative.adobe.com/products/download/lightroom – Make sure you are logged out of your account on their website if you still want to download the standalone if you are a CC subscriber.
Then scroll to the bottom of the page:
It will then take you to your shopping basket. This is where you can specify if you want ot buy the full version or the upgrade.
If you want the full version there is nothing to specify unless you have a promo code.
If you want to upgrade then click edit:

The you can select upgrade using the new dropdown arrow next to "I want to buy: Full". Then you can select upgrade. Next you will have to specify what version you are upgrading from: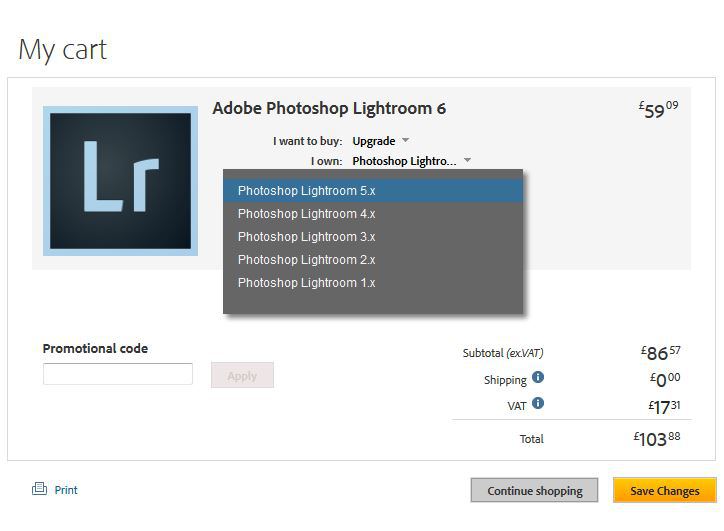 That's it. click save changes then checkout then you can login or create an adobe account to purchase it. The it will take you to the download page and provide you with your a new serial number. You will need to make a note of your old lightroom serial number (if you are upgrading) which you will need to register your upgrade.
A direct UK link to add it you your shopping cart:
and the US site
A few quick notes about Lightroom CC/6
I have to say that I like it a lot. Speedier with a compatible graphics card (note some ATI card owners seem to be having an issue at the moment), with added HDR photo merge (creates a slightly lossy DNG file) and the panoramic function (seems a bit limited after initial tests but I need to use it a bit more). The new LR 6 (CC) has a few added touches and paired with and updated Photoshop CC ACR 9 can now read the new Canon 5Ds/r .CR2 files: http://www.adobe.com/uk/products/photoshop-lightroom/features.html.
…
My daily shooter is Sony A1 with a vertical grip and various Sony lenses attached like the FE 20mm F1.8. Find more gear recommendations in our shop. As an Amazon Associate I earn from qualifying purchases.