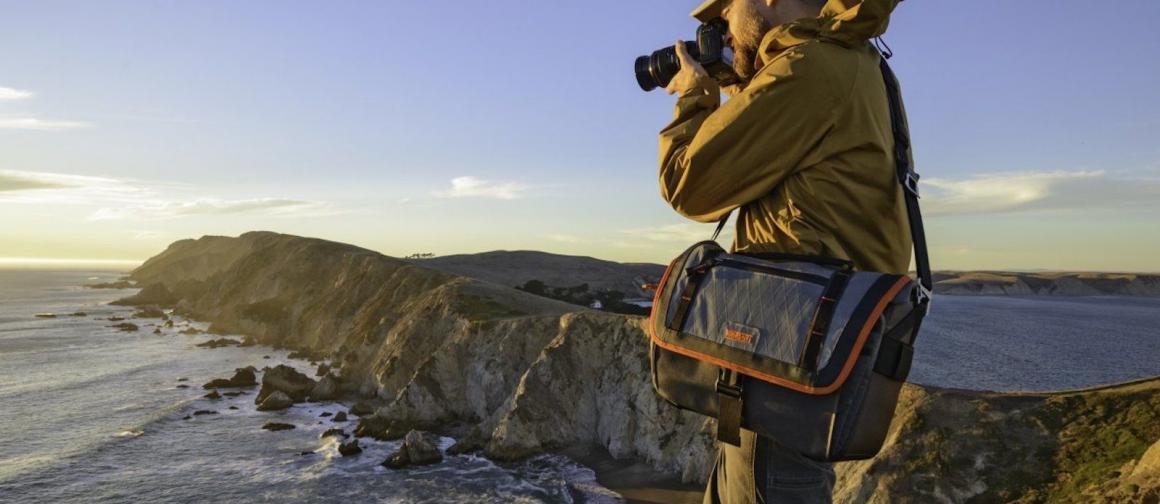 Here's a new concept in outdoor photography gear.  The Exposure 15 and 13 shoulder bags are designed with the outdoor photographer in mind.  This way when they are shooting in situations where they need less gear or quicker access than a backpack offers, they can quickly swivel the shoulder bag to access new lenses and bodies.
So it's a rucksack for photographers… And, cool.
MindShift Gear's new Exposure shoulder bags are storm-resistant carrying solutions for the active photographer in virtually any outdoor environment. Built with high performance waterproof sailcloth panels, strategically placed storm flaps, water-repellent DWR fabric, and a sturdy Tarpaulin bottom; the Exposure protects camera gear from the elements and withstands the rigors of adventure photography.
And, with its cross-body stabilizer strap, the Exposure moves with you while you're active or is removable for more causal environments.  A waterproof rain cover is included when it's time to put the camera away and hunker down. Exposure shoulder bags come in two models, the Exposure 13 and the Exposure 15, and in two colors, Black and Solar Flare.
The Exposure 13 fits a 13" laptop; the Exposure 15 fits 15" laptops.  A 10" tablet fits in zippered pocket.  And, don't forget that when you use my special URL to order you will receive free gear and free shipping.
ADDITIONAL FEATURES AND BENEFITS
YKK® AquaGuard® weather-resistant zippered front pocket sized for today's large phones
Weather Wings on flap for additional weather protection
Anodized aluminum hardware is lightweight and resists corrosion
Tripod attachment straps included
Comfortably padded neoprene shoulder strap with easy adjustment
Luggage handle pass-through
Customizable divider layout for stacking short lenses
Internal pockets hold batteries, card wallets, and other accessories
Ultra-Stretch mesh water-bottle pocket fits most 1 liter water bottles and secures with an elastic cord-lock
Deluxe organizer located in wide zippered pocket
Gusseted pockets allow for large objects
Compatible with the MindShift Filter Nest, Filter Hive, and Switch Case (sold separately)
Compatible with the Peak Design Capture Clip and the SpiderLight
Camera Holster
Seam-sealed rain cover included
Materials
Exterior: For superior water-resistance, all exterior fabric has a durable water-repellant (DWR) coating, plus the underside of the fabric has a polyurethane coating. It also has YKK® AquaGuard® (weather resistant) zippers, high-performance Sailcloth, 420D velocity nylon, 600D polyester, heavy-duty nylon tarpaulin, UltraMesh pockets, anodized aluminum hardware, nylon webbing, 3-ply bonded nylon thread.
Interior: PE board reinforced removable closed-cell foam dividers, 200D liner, PU backed nylex liner, 2x PU coated nylon 190T seam-sealed taffeta rain cover, 3-ply bonded nylon thread.
Specifications
Exposure 13
Exterior Dimensions: 16.1" W x 10.6" H x 6.5" D (41 x 27 x 16.5 cm) Interior Camera Compartment: 13.8" W x 9.1" H x 4.9" D (35 x 23 x 12.5 cm)
Laptop Pocket: 13.3" W x 9.6" H x 1" D (34 x 24.5 x 2.5 cm)
Tablet Pocket: 11.8" W x 4.7" H x 0.8" D (30 x 12 x 2 cm)
Phone Pocket: 4.7" W x 6.7" H (12 x 17 cm)
Weight: 2.6 lbs. (1.2 kg) – With all accessories included
Exposure 15
Exterior Dimensions: 17.3" W x 12.2" H x 7.1" D (44 x 31 x 18 cm)
Interior Camera Compartment: 15.7" W x 10.4" H x 5.1" D (40 x 26.5 x 13 cm)
Laptop Pocket: 15.4" W x 11" H x 1.2" D (39 x 28 x 3 cm)
Tablet Pocket: 13.4" W x 9.4" H x 0.8" D (34 x 24 x 2 cm)
Phone Pocket: 5.5" W x 6.7" H (14 x 17 cm)
Weight: 3.0 lbs. (1.4 kg) – With all accessories included
…
My daily shooter is Sony A1 with a vertical grip and various Sony lenses attached like the FE 20mm F1.8. Find more gear recommendations in our shop. As an Amazon Associate I earn from qualifying purchases.