DPReview.com have just released four sample slow motion videos from their review Sony RX100 IV. The Sony RX100 IV can capture videos at an incredible 960 FPS, and DPReview posted three videos at that full 960 FPS rate and one at 240 FPS.
Some of the video looks great, some looks surprisingly grainy. We're not sure why the bumblebee video looks so noisy when the fireworks looks so smooth, perhaps the settings were off. We're about to receive our own unit, and will provide our own testing.
Support SonyMirrorlessPro With Your Purchases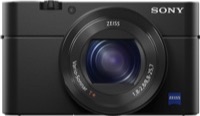 Buy the Sony RX100 IV From B&H Photo
Buy the Sony RX 100 IV From Amazon
960 FPS Samples
240 FPS Sample
Subscribe to DPReview's YouTube Channel

…
My daily shooter is Sony A1 with a vertical grip and various Sony lenses attached like the FE 20mm F1.8. Find more gear recommendations in our shop. As an Amazon Associate I earn from qualifying purchases.