NOTE: The gallery tool resizes the photos, for quick-loading images. To see higher-resolution images, view this gallery on our Flickr page. 
We've just shot our first sample images with the Sony 90mm Macro lens. These Sony 90mm macro first sample images have blown us away. I'm a long time macro shooter, I used to spend a lot of time with a Canon 1D series camera and the Canon 65mm 1x-5x 65mm Macro lens. It was by far my favorite macro lens as it allowed me to take photos from 1x life up five-timers life-size with one lens. The Sony 90mm macro doesn't reach out as far as that lens, but everything within it's reach is tack sharp and beautiful. These first few images already have use convinced that for macro shooters, this is a must-have lens.
[hr style="dotted"]
Shop at B&H to Support Sony Mirrorless Pro

Buy the Sony 90mm f/2.8 macro G OSS Lens from our equipment partners at B&H Photo.
[hr style="dotted"]
We'll be spending time over the next few days shooting the 90mm as a portrait lens, looking to see how it resolve images when used as a standard prime, but right now we wanted to see how macro images looked. I coupled the lens to the A7II (not the higher-resolving a7R) because I wanted to take advantage of the built-in image-stabilization—something I only dreamed of with the Canon setup I had. This enabled me to use the stabilization in the lens and the stabilization in the camera to shoot some very steady shots, even when holding the setup at arm's length.
The lens has a large, easy to grab barrel adjuster for focusing and that dial can be slid forward to toggle autofocus and backwards to toggle manual focus. For 1:1 images I found it best to focus manually—it's just harder for the camera to pick out the focus point when objects are so close using autofocus than it is to pre-focus and move slightly fore or aft—and to use the autofocus any time from around 1:2 or farther.
Naturally the Sony system provides some great assistance for manual focus, including focus peaking and focus magnification, which make dialing focus especially easy with the a7. When I used to shoot the Canon system, focus was always hit or miss—it was very hard to judge the focus point because slight movement between pre focus and the shutter flap could change the distance to the subject. I find that the ability to live focus with the EVF makes macro shooting so much easier, and I'm looking forward to macro work with the a7RII and its electronic shutter.
The f/2.8 aperture is very narrow, which is great for the macro shooter at close distances. I'm particularly happy with the focus blur on the spikes on this cucumber in my garden.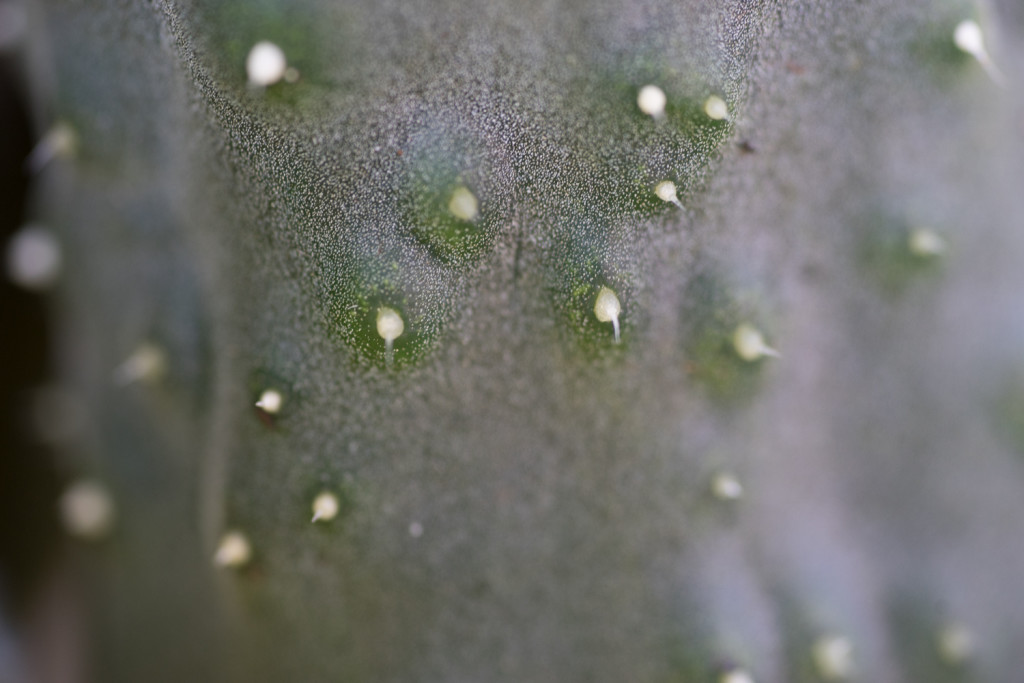 Initial reviews of the lens indicate that it's slower to focus when being used as a standard prime than other prime lenses, but I'm not particularly concerned with that for a few reasons. The first is that there isn't a native Sony lens in an equivalent focal length for the E-mount to compare this lens to yet, and a long lens like a 90mm will most likely be used for portrait work, where the speed of focus isn't incredibly important. (Of course it could also be used for sports work, but then a macro lens is unlikely to be the first-choice.)
When the a7 series first shipped, the lack of lenses was a big hinderance to the platform, but now that the lens selection is building out, there is a huge range of choice for the photographer. This 90mm macro lens is a great addition, and it opens up a creative potential previously unavailable to the Sony shooter.
In addition to the gallery of images, we've posted higher resolution photos from this lens to our Flickr page. You can view the gallery here.
What would you like to see us shoot with the Sony 90mm f/2.8 Macro G OSS Lens? Let us know in the comments.
…
My daily shooter is Sony a9 II with a vertical grip and various Sony lenses attached like the FE 20mm F1.8. Find more gear recommendations in our shop. As an Amazon Associate I earn from qualifying purchases.