I met the people from Spider Holster at WPPI and have been using their camera holster ever since—mentioned them in my review from the show and in the Rx1R II accessories post. Today they announced another innovative and ergonomic solution for mirrorless cameras: the Spiderlight Hand Strap and they're taking preorders on Kickstarter. As of this morning, they've already raised $3,600.00 of the 30K funding goal. Just like their holster, the industrial design is as good as the camera. The Kickstarter price is $30.00.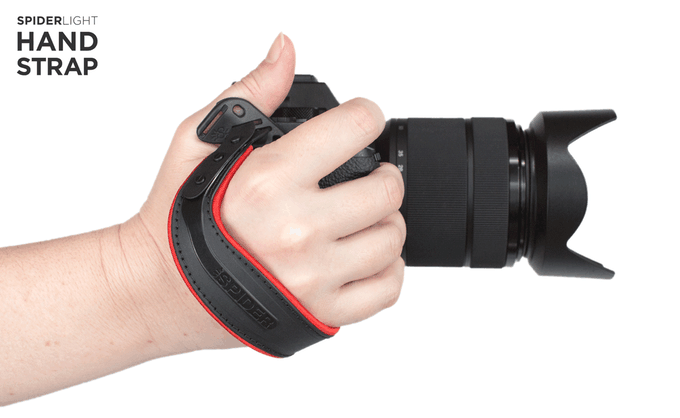 The instructions are a bit confusing, if you're a never read the manual type like me. But, after realizing the letters corresponding to the right connector for your camera are on the back of the pieces, I was ready to shoot with the hand strap in a minute or so. Why do you need a hand strap?
With the support of a hand strap for your mirrorless camera, you have the freedom to comfortably carry your camera, ready to shoot, for long periods of time. That's great for hiking a trail, taking a photo walk in the city, and shooting from the sidelines at your kid's soccer game, band concert, or dance recital. It means you can carry your camera securely without a tangling, dangling, cumbersome neck strap. It means you can run fast with your camera, and stop and shoot in a split second. It's fast, convenient, comfortable and secure.
Combine the strap with their holster and get the camera off your neck; or, make sure the attaching bolts are tight and use a crampon to hang the strap from a belt loop. Check the gallery for photos from my setup, using an prototype of the strap, and orders yours now.
Features
Get your hand in-and-out easily and quickly.
Snug, comfortable fit for any hand size.
Unique shape puts your hand in a perfect shooting position.
Great support and stability when shooting hand-held video.
Easy access to your camera controls.
Works with any tripod.
Super quick to get on and off your camera.
Nice and sturdy. (not flimsy like other straps.)
Includes adapters for compatibility with all leading mirrorless cameras.
Did we mention that it feels great and looks beautiful?
…
My daily shooter is Sony A1 with a vertical grip and various Sony lenses attached like the FE 20mm F1.8. Find more gear recommendations in our shop. As an Amazon Associate I earn from qualifying purchases.