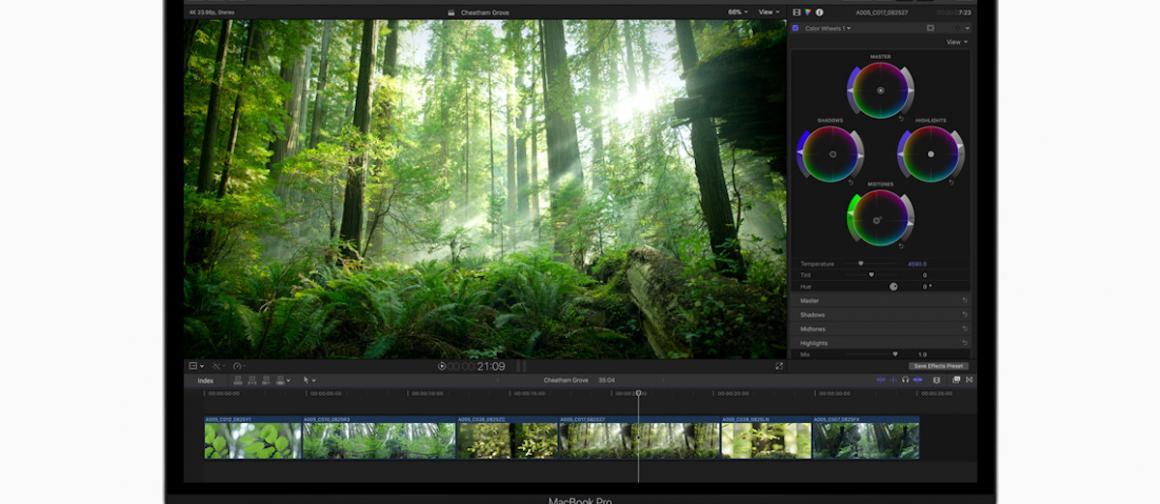 Timed for the sales of the iMac Pro, Apple releases Final Cut Pro 10.4 with 360-degree VR video editing, Color Grading, HDR Support and a long bulleted list of improvements. This is a huge upgrade and I'm downloading Final Cut Pro 10.4 now to my MacBook Pro.
This update means Final Cut Pro users can now edit full-resolution 8K video for the first time on a Mac. Apple is also extending 360-degree VR video support to Final Cut Pro companion apps, Motion and Compressor.
Apple said, "With more than 2 million seats, Final Cut Pro X is the most popular version of the software ever and is used by professional video editors to create incredible works of art, from award-winning Hollywood feature films and commercials, to international broadcasts and the world's most popular YouTube videos."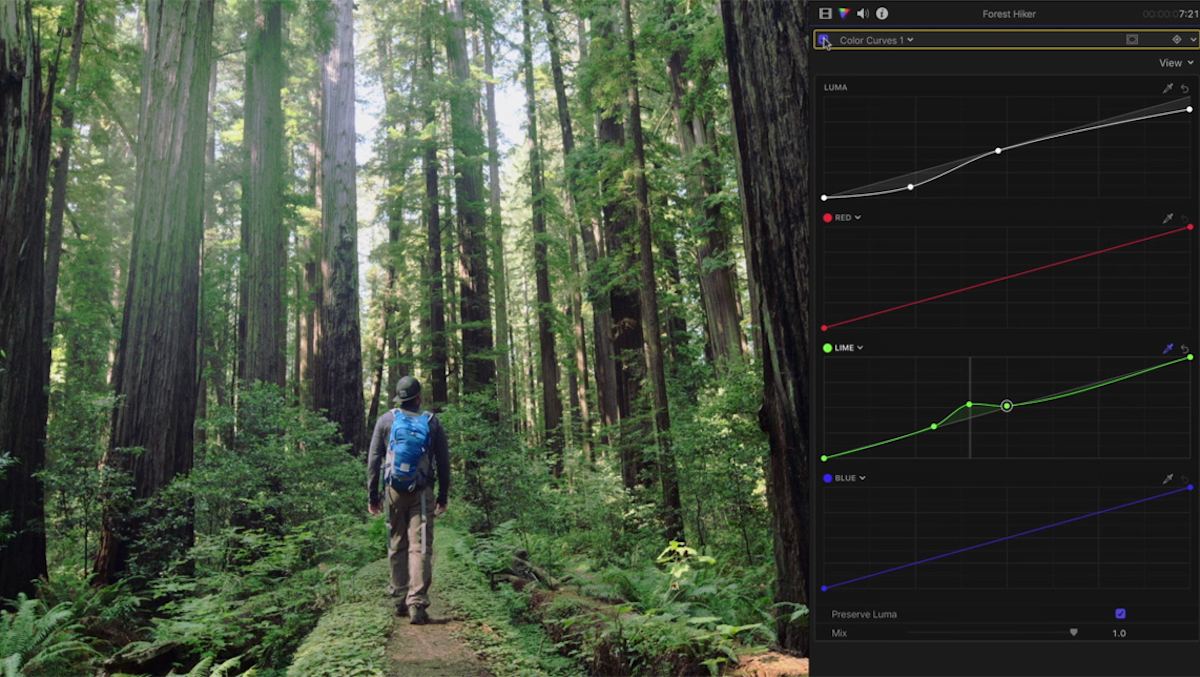 The update also includes powerful tools for professional color grading. Those include color wheels to adjust hue, saturation and brightness. Color curves allow for ultra-fine color adjustments with multiple control points to target specific color ranges, and eye droppers let users sample specific colors and apply manual white balance. Users can also apply custom lookup tables (LUTs) from popular color grading apps like DaVinci Resolve and websites including PremiumBeat, Color Grading Central and more.
It's going to take a bit to digest all the changes and get to work with the Sony RX0 cameras, but we're heads down on it now.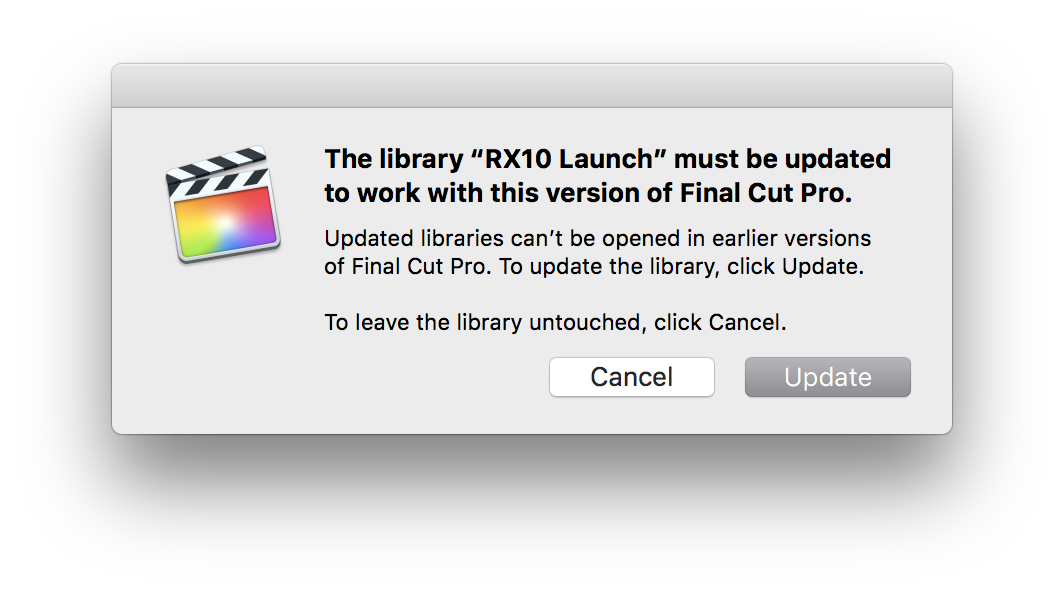 What's New?
360 VR editing
Import and edit 360° equirectangular video in a wide range of formats and frame sizes
Output 360° video to a connected VR headset*
Open the 360° viewer to simultaneously monitor headset and equirectangular views while editing
 Option to track movement of a VR headset in the 360° viewer in Final Cut Pro
Add 360° effects including blurs, glows, and more
Share 360° video directly to YouTube, Facebook, and Vimeo
Use the 360° patch to instantly remove cameras and rigs from the scene
Use the Horizon overlay to easily change the orientation of 360° video right in the viewer
Edit 360° video into a non-360° project and animate the pan, tilt, and zoom
Place any graphic, still, or video into a 360° project, then reposition and resize to fit perfectly into the 360° scene
Support for monoscopic and stereoscopic 360° video
Advanced color grading
Dedicated color tab in the inspector provides one location for all color controls
Powerful new color wheels improve upon traditional wheels with integrated sliders to adjust hue, saturation, and brightness
Color curves enable ultra-fine adjustments using multiple control points to change color and contrast
Hue/saturation curves let you select a specific hue or brightness level to make adjustments while leaving other parts of the image unchanged
Use the eye dropper in the color and hue/saturation curves to quickly sample parts of an image for adjustment
Balance Color command includes an eye dropper for manual white balance
Apply custom LUTs from popular color grading apps and sites
Adjust color corrections over time with precise keyframe controls
Speed through color correction using new keyboard shortcuts for color adjustments and role-based timeline navigation
Color presets are now located in the effects browser for skimmable preview and fast search
Additional features
Send your iMovie for iOS project directly to Final Cut Pro for advanced editing, audio work, and finishing
Import, playback, and editing of High Efficiency Video Coding (HEVC, also known as H.265) video clips and High Efficiency Image Format (HEIF) photos from Apple devices
Send to Compressor to export video projects in the HEVC format
Adjust audio using effects plug-ins from Logic Pro X with redesigned, resizable interfaces
Support for Canon Cinema RAW Light format with additional software from Canon
Faster Optical Flow analysis using Metal 2
Support for NFS-based libraries and media
XML 1.7 with support for new color grading controls, 360 VR effects, and HDR
Pricing and Availability
Final Cut Pro 10.4 is available as a free update today for existing users, and for $299.99 (US) for new users on the Mac App Store. Motion 5.4 and Compressor 4.4 are also available as a free update today for existing users, and for $49.99 (US) each for new users on the Mac App Store. Education customers can purchase the Pro Apps Bundle for Education for $199.99 (US). For more information, please visit Apple's Final Cut Pro site.
…
My daily shooter is Sony A1 with a vertical grip and various Sony lenses attached like the FE 20mm F1.8. Find more gear recommendations in our shop. As an Amazon Associate I earn from qualifying purchases.