In a frothy, near-breathless review, we learn that the Olympus Pen-F is an impeccably beautiful, heartstring triggering, hipster geeking, reinvented rangefinder. Maybe this was Raymond Wong's very first time with a new camera for Mashable…not sure, but I haven't read such salacious words since Wonkette posted about her imbroglios with congressman.
Can't argue with the retro rangefinder styling, but prefer image quality to rangefinderness. If you fit Wong's camera user persona, perhaps save up for Leica who was retro, before they called it that, or the FujiFilm X-Pro2…both with larger sensors. Remember, the smaller the sensor, the more noise, but if Micro Four Thirds is your thing, that's the best image quality you're gonna get and for the $500 less than the X-Pro2. Either are step-up cameras from a phone or point and shoot, but given the options, we recommend a APS-C sensor unless Japanese miniaturization is the most desirable feature, and prefer minimalist buttons and functions.
In comparison, the RX1RII is Sony's full-frame, ultra compact that produces incredible images; however, thicker with the fixed lens. The X-Pro2 is bigger than both and that's part of its charm.
#Sizes#
Pen-F: 4.9 x 2.8 x 1.5 in. (125 x 72 x 37 mm)
Rx1RII: 4.5 x 2.6 x 2.7 in. (113 x 65 x 70 mm)
X-Pro2: 5.5 x 3.3 x 1.8 in. (141 x 83 x 46 mm)
Leica M: 5.5 x 3.1 x 1.7 in. (139 x 80 x 42 mm)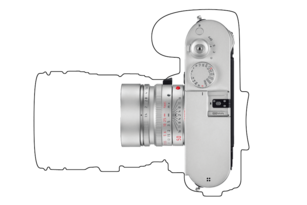 For a more sensible review of the Pen-F, see Imaging Resource that also welcomed the styling and explained how the oversample in high-rez mode works.
The PEN-F utilizes an all-new 20-megapixel Live MOS Four Thirds sensor, making it currently the highest-resolution Olympus Micro Four Thirds camera on the market, and rivaling the Panasonic GX8. Combined with the snappy TruePic VII image processor, the PEN-F is a high-resolution, high-performance piece of kit. Like the E-M5 Mark II before it, the PEN-F offers an interesting and impressive multi-shot High-Res mode that's able to provide a whopping JPEG resolution of 50 megapixels in High Res Shot Mode. With RAW, the High-Res Shot mode is able to capture a whopping 80 megapixels of resolution!
*Pricing*
…
My daily shooter is Sony A1 with a vertical grip and various Sony lenses attached like the FE 20mm F1.8. Find more gear recommendations in our shop. As an Amazon Associate I earn from qualifying purchases.