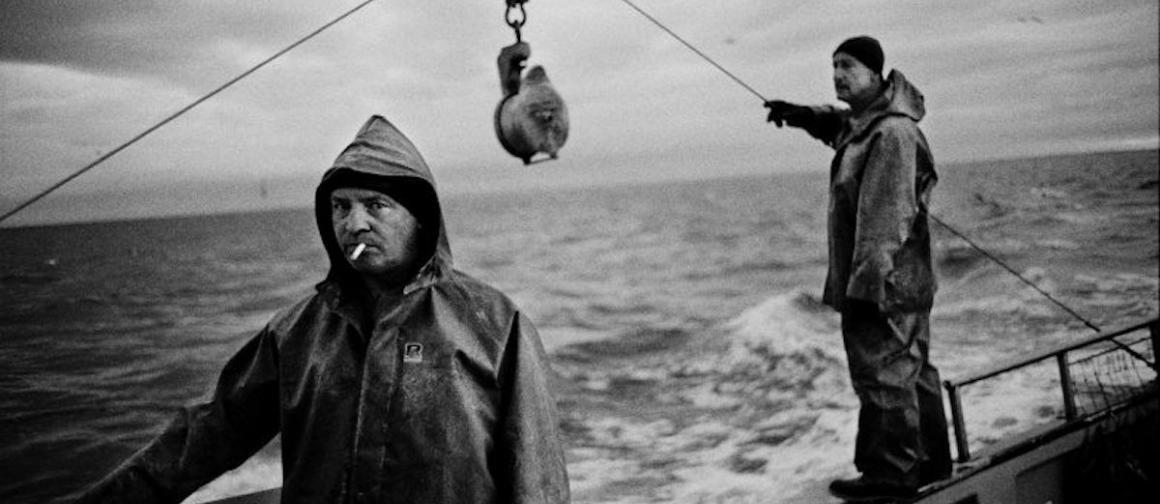 When the photography is this good, I don't care what  brand of camera the photographer uses. Le Naufrage by Charles-Frederick Ouellet is inspirational and a study in capturing moments within a broader theme.
Le Naufrage presents a personal vision of the St. Lawrence steeped in the river's cultural heritage and folklore. Ranging from gritty realism to oniric impressionism, the images gathered all bear the impress of the great force of the natural world. For years Ouellet has explored the figure of the fisherman as a symbol of our collective origins. Working on fishing boats, exposed to the weather, these men labour in silence. Over time he began to see their world, through their eyes; an elemental environment of coastline, horizon, sea, wind, and sky. As if of their own volition, the photographs taken on the water naturally slip away from the discursive subject to fuse into more abstract seascapes. This body of photographs is supplemented by others taken on land, along the Gaspesie and North Shore coastlines, depicting the sites of shipwrecks that bear the invisible scars of the past.
This body of work is but one part of a larger project in which Ouellet explore the iconic St Lawrence river as a unifying force that binds together the traditions that gave birth to and have always shaped Quebec society. Taking inspiration from myriad sources—exploration narratives, sailor's legends, and the work of the navigators and oceanographers who travel the St. Lawrence—in order to create a space of contemplation that opens dialogue on the representation of place and memory, the natural world, and our living past
Read the interview with the photographer on Leica's blog. And, it makes me think of shooting more of the Duwamish River here in Seattle, an industrial waterway that has defined modern Seattle since the Gold Rush.
…
My daily shooter is Sony A1 with a vertical grip and various Sony lenses attached like the FE 20mm F1.8. Find more gear recommendations in our shop. As an Amazon Associate I earn from qualifying purchases.