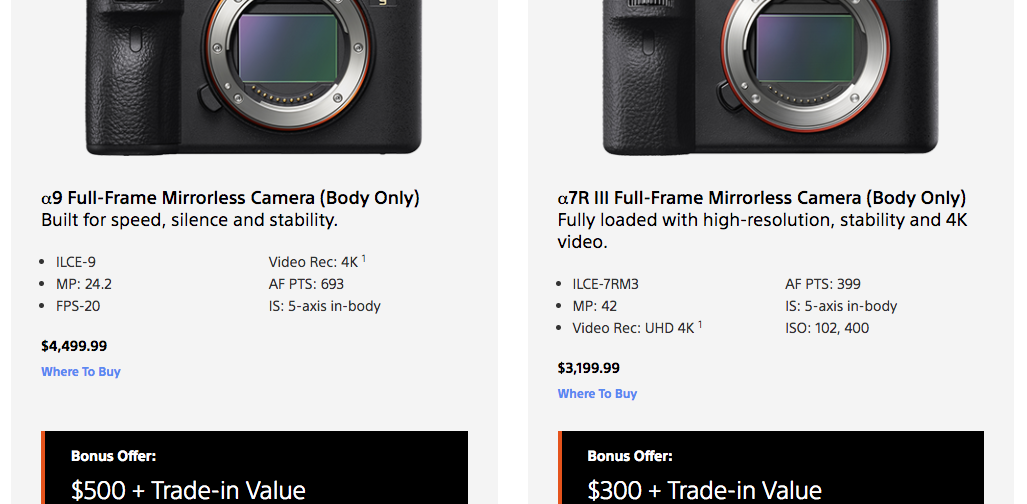 I get asked all the time about the best buys in Sony cameras and suggest that buyers consider previous models, like the first and second marks of the Alpha Series: a7R II or a7S II. And, participate in their Trade In-Trade Up deals.
That sale is going on now through March 31 with additional bonus savings of up to $500 when applying the value of your interchangeable-lens camera (DSLR or mirrorless) or lens trade towards the purchase of select Sony Alpha full-frame mirrorless cameras.
Just like the sale last year, it works through a participating local camera store. In the Seattle area, that's Glazers and Kenmore camera. For the local store, bring your used working interchangeable-lens camera or lens into your local photo retailer for an evaluation. They'll provide a quote for how much they're willing to give you for your trade. If you agree to the amount, the next step is to choose the Sony full-frame camera you want to buy. If you've selected one of the bonus-eligible cameras, the sales associate will apply the corresponding trade-in bonus to your purchase, along with all other applicable instant rebates.
This seems a lot easier to do in person and Amazon isn't participating, but B&H is. Using their trade in tool, pick the interchangeable-lens camera or lens you want to trade-in, provide details regarding its condition and what accessories you're including in the trade-in. As soon as you ship your gear, B&H will send you an email with a unique trade-in bonus code that you can use immediately towards the purchase of eligible Sony full-frame cameras. After receipt of your used gear, B&H will complete a physical evaluation and provide a final trade-in value. You'll receive a check in the mail for this amount (or a store credit, if you prefer).
Up to $500.00 off plus the value of your trade in is as good as deal as it gets.
…
My daily shooter is Sony a9 II with a vertical grip and various Sony lenses attached like the FE 20mm F1.8. Find more gear recommendations in our shop. As an Amazon Associate I earn from qualifying purchases.