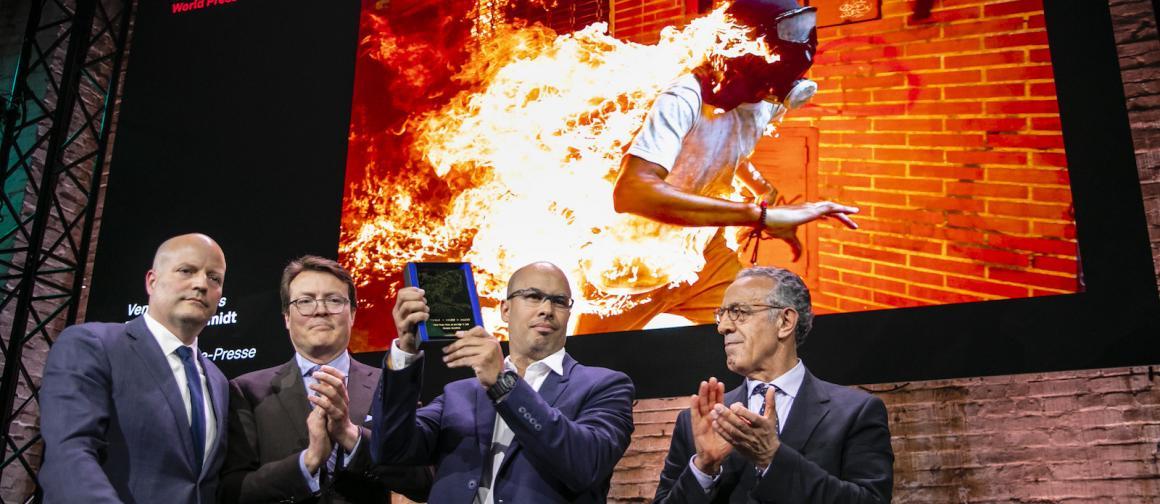 The World Press Photo of the Year honors the photographer whose visual creativity and skills made a picture that captures or represents an event or issue of great journalistic importance in the last year.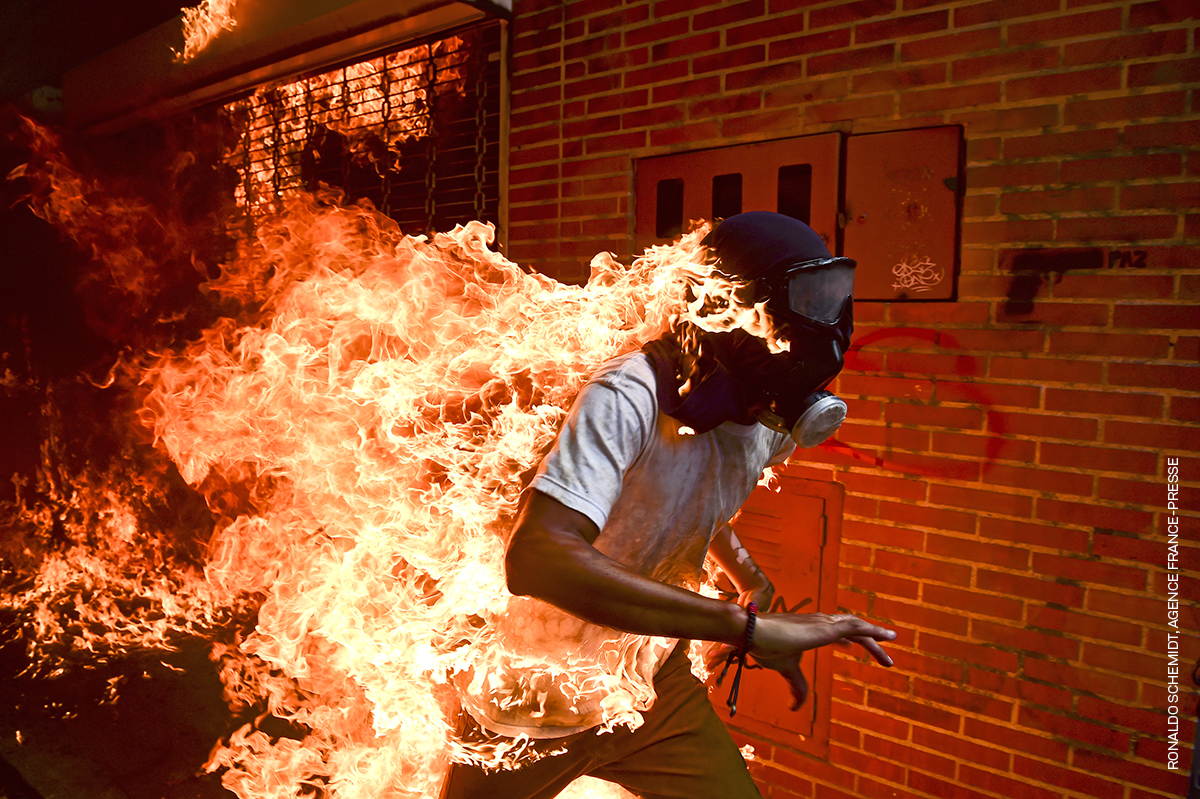 The jury, chaired by Magdalena Herrera, awarded the prize to Ronaldo Schemidt's picture Venezuela Crisis–which also won first prize in the Spot News Single category.
The image shows José Víctor Salazar Balza (28) on fire amid violent clashes with riot police during a protest against President Nicolás Maduro, in Caracas, Venezuela.
Salazar was set alight when the gas tank of a motorbike exploded. He survived the incident with first- and second-degree burns. Schemidt (b. 1971) is a staff photographer for Agence France-Presse, based in Mexico. Here's the photo on Twitter
Huge Congratulations to AFP's photographer Ronaldo Schemidt, World Press Photo of the Year award and Spot News Singles category. #AFPphoto by @rschemidt pic.twitter.com/M6hvWGWWA3

— AFP Photo (@AFPphoto) April 13, 2018
It's incredible. The chair of the jury describe it this way:
It's a classical photo, but it has an instantaneous energy and dynamic. The colours, the movement, and it's very well composed, it has strength. I got an instantaneous emotion…
Jury member Whitney C. Johnson, deputy director of photography National Geographic, added:
It's quite symbolic, actually. The man, he has a mask on his face. He's come to sort of represent not just himself and himself on fire, but sort of this idea of Venezuela burning.
Jury member Bulent Kiliç, chief photographer Turkey Agence France-Presse, also added:
"And there is one small detail in the picture. There was a gun on the wall. It reads "paz'. It means peace. That also makes this picture stong."
And, Jury member Eman Mohammed, photojournalist said:
"It just gives you that sense of more power to the people. To the ones who speak out."
To me, it's so in the moment.
See this gallery for the other 2018 winners. They were selected from 73044 images taken by 4548 photographers from 125 different countries. While clicking through the 2018 photo contest gallery consider what a photo tells us and the emotional force it conveys.
…
My daily shooter is Sony a9 II with a vertical grip and various Sony lenses attached like the FE 20mm F1.8. Find more gear recommendations in our shop. As an Amazon Associate I earn from qualifying purchases.