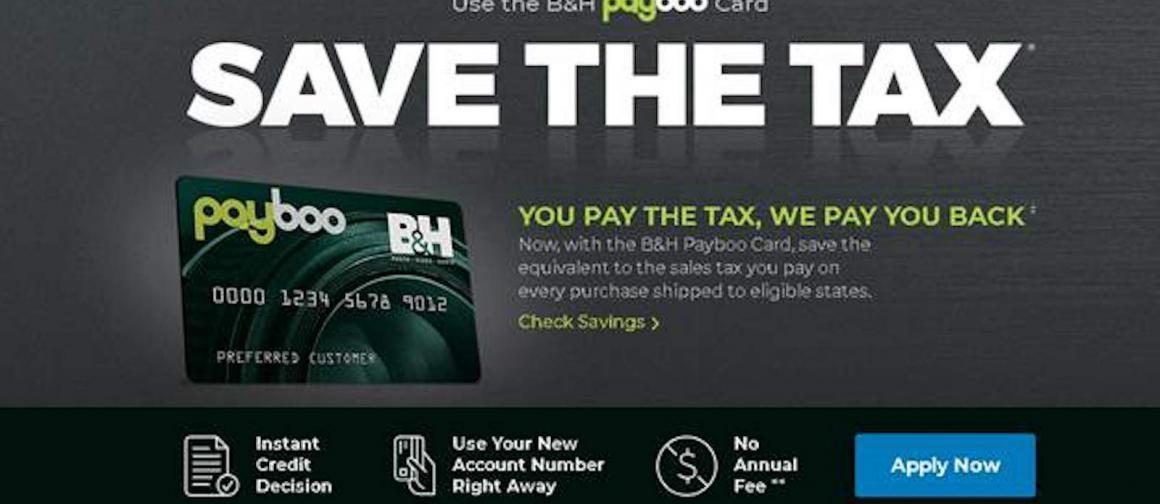 B&H Payboo refunds sales tax of 10.10% in Washington state and specifically, Seattle. The new Payboo store card from B&H will refund sales tax for cardholders. Sales tax refunds are not available in some states on the card, please check it if applies to your state before applying.
Here's a video explainer from The Credit Shifu.
According to B&H, Payboo works with
No gimmicks or rebate forms. No statement credit after the fact. Plain and simple…state's sales tax is credited before you pay.
As a small business, I don't qualify, the card is for individuals only. If you're looking for more deals, Sigma's Mothers Day sale is happening now. B&H also has a 0% finance card. It's been under the radar but a great option for someone who needs 6-12 months to pay off a purchase. You won't save the tax but will get the convenience of time to pay.  Here is a link to that card.
More About PayBoo Refunds Sales Tax
PayBoo is a store card and valid only at B&H. Make a purchase with the card and the sales tax is refunded to your account. Don't carry a balance because the 29.99% interest will negate any tax savings. It is advisable to only use this card for purchases that you know you can pay off by the due date.
…
My daily shooter is Sony a9 II with a vertical grip and various Sony lenses attached like the FE 20mm F1.8. Find more gear recommendations in our shop. As an Amazon Associate I earn from qualifying purchases.