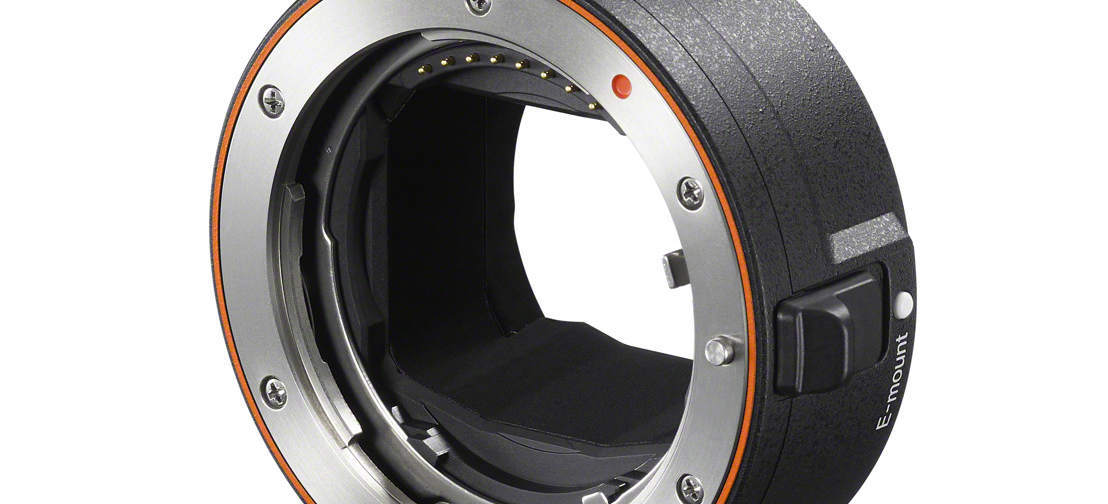 Sony has announced the launch of a new adapter for existing A-Mount lenses. This adapter, the LA-EA5 ($249 at B&H) brings support for Sony's phase-detection AF system, and other features found in the recent E-Mount cameras to existing A-Mount lenses.
A really interesting feature of the adapter is that this adapter features support for driving screw-drive lenses, but the adapter is tiny. The external mechanism, part of the previous adapter used to drive those screw-drive motors, has now been integrated into the adapter ring. There's a cutaway shot that shows how this was done, I think it's some impressive miniaturization. Sony is, after all, a miniaturization company.
Using the new LA-EA5 A-mount adaptor, users can now access the acclaimed autofocus and high-speed shooting capabilities found in Sony's latest E-mount camera bodies with A-mount SSM (Super Sonic wave Motor) and SAM (Smooth Autofocus Motor) lenses, as well as A-mount lenses that do not have internal focus motors.
Full support is provided for focal plane phase-detection AF, wide-area focal phase-detection AF coverage, Real-time Eye AF for both humans and animals, Real-time Tracking and AF/AE (auto exposure) tracking for SSM/SAM lenses on nine most recently introduced E-mount camerasi at up to 11fps depending on the camera model. When used with the Alpha 7R IVvi or Alpha 6600vi, for the first time, these capabilities are possible with lenses that do not have internal focus motors, such as the Sonnar T* 135mm F1.8 ZA and Planar T* 85mm F1.4 ZA.
Adapter for Existing A-Mount Lenses Pricing and Availability
The LA-EA5 is available in October 2020 for a suggested retail price of $249.99 USD.
…
My daily shooter is Sony a9 II with a vertical grip and various Sony lenses attached like the FE 20mm F1.8. Find more gear recommendations in our shop. As an Amazon Associate I earn from qualifying purchases.