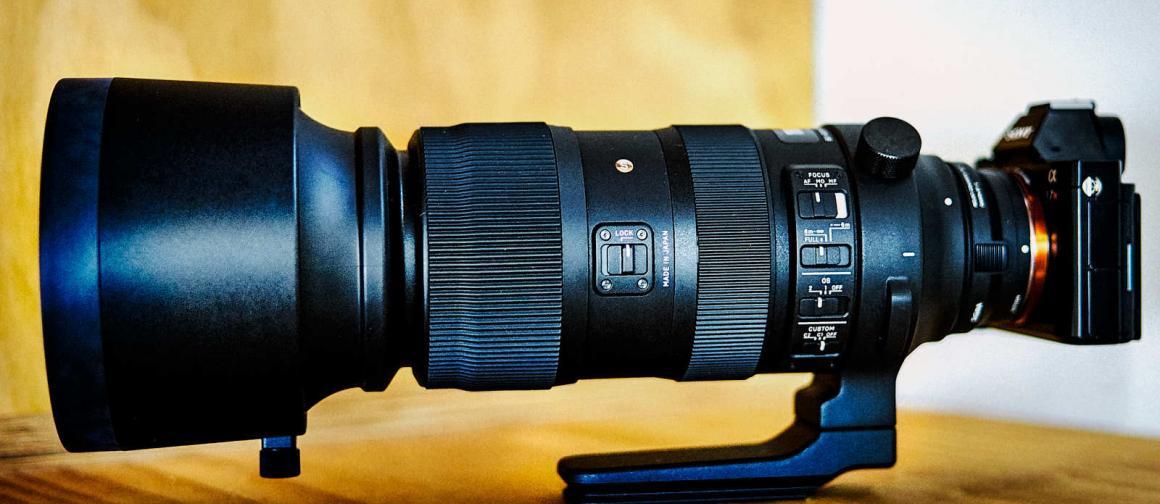 SIGMA's adept lens means you can carry fewer. The SIGMA 60-600mm has a range for almost anything and is an absolute go-to. A 10x optical zoom means a photographer can shoot an assignment with one lens, two max. An airshow photographer might only bring the 60-600mm to capture the planes and a wide angle lens for the ground, like one of these three SIGMA lenses I reviewed last month. My friend Larry Grace proves the concept with this image he made of a F35 Lightning II.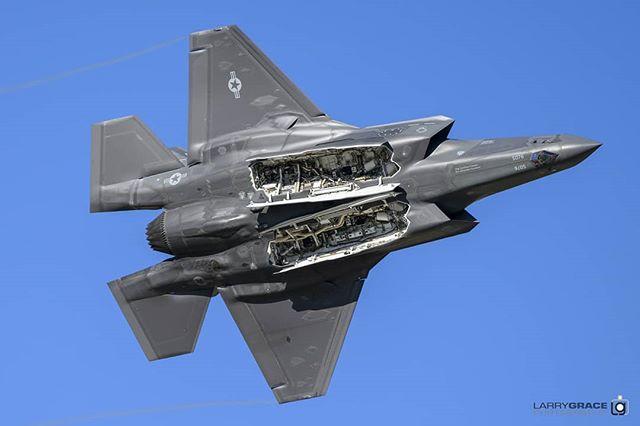 Before this lens, an airshow pro would travel with an entire kit. Now, that's simply overkill. I found myself in a similar scenario shooting around Seattle where I captured extreme close ups of a construction project, gigantic cranes, waterfowl, and nesting herons at the Ballard Locks with only two lenses in tow.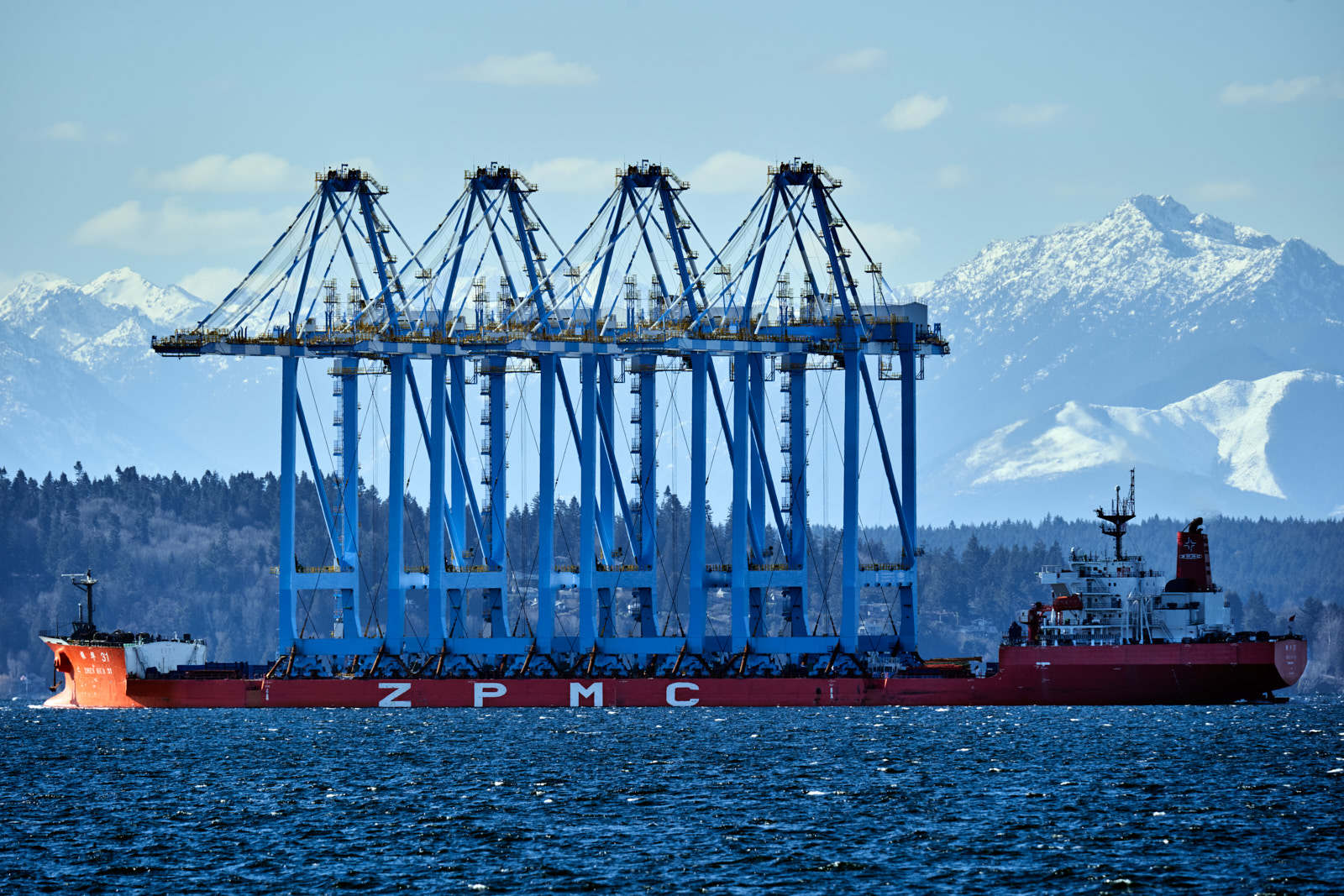 Well Thought Out
As an example of how well thought out the 60-600mm is, the front of the lens is rubberized with an easy-to-grip shape that can be push-pulled or twisted to zoom. Watch this video from SIGMA starting at 1:48 for an example.
You can adjust the angle of zoom almost instantly. Again, with sport and nature shooters in mind, the tripod socket has 90 degree click stops and an oversized, knurled knob. That means you can keep your eye on the subject and switch orientation of the body from vertical to horizontal by feel.
In post production—where it matters most—the images I took were sharp and consistent without aberrations throughout the zoom range. I took this photo of a duck while walking along a bridge in the arboretum. The image stabilization effect of four stops results in a clear, sharp image.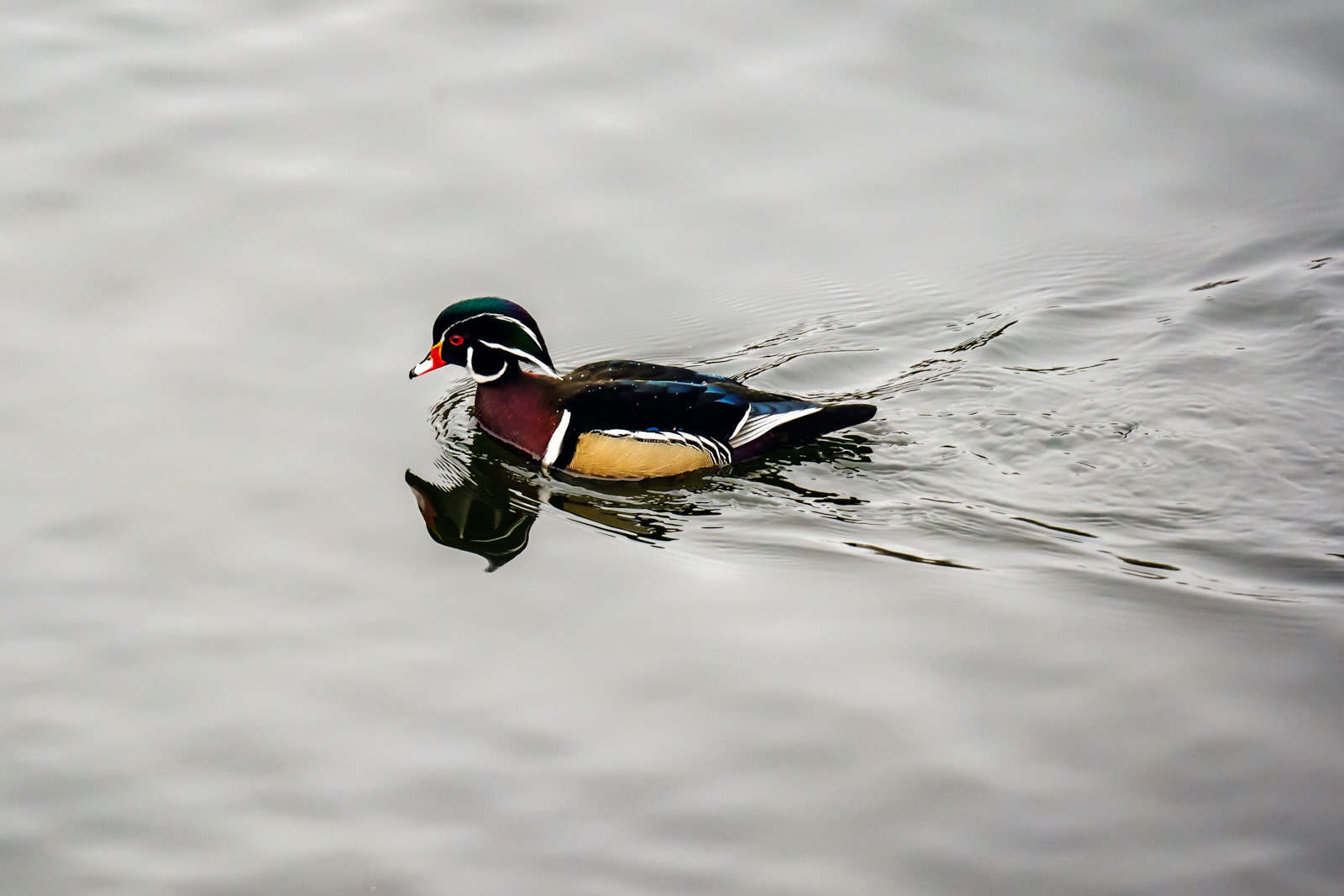 Notice the water beading on the duck's back. I was moving, the subject was moving, and the lens was extended to 600mm. Using stabilization mode 2, the acceleration sensor works with the intelligent OS to compensate for vertical and horizontal motion.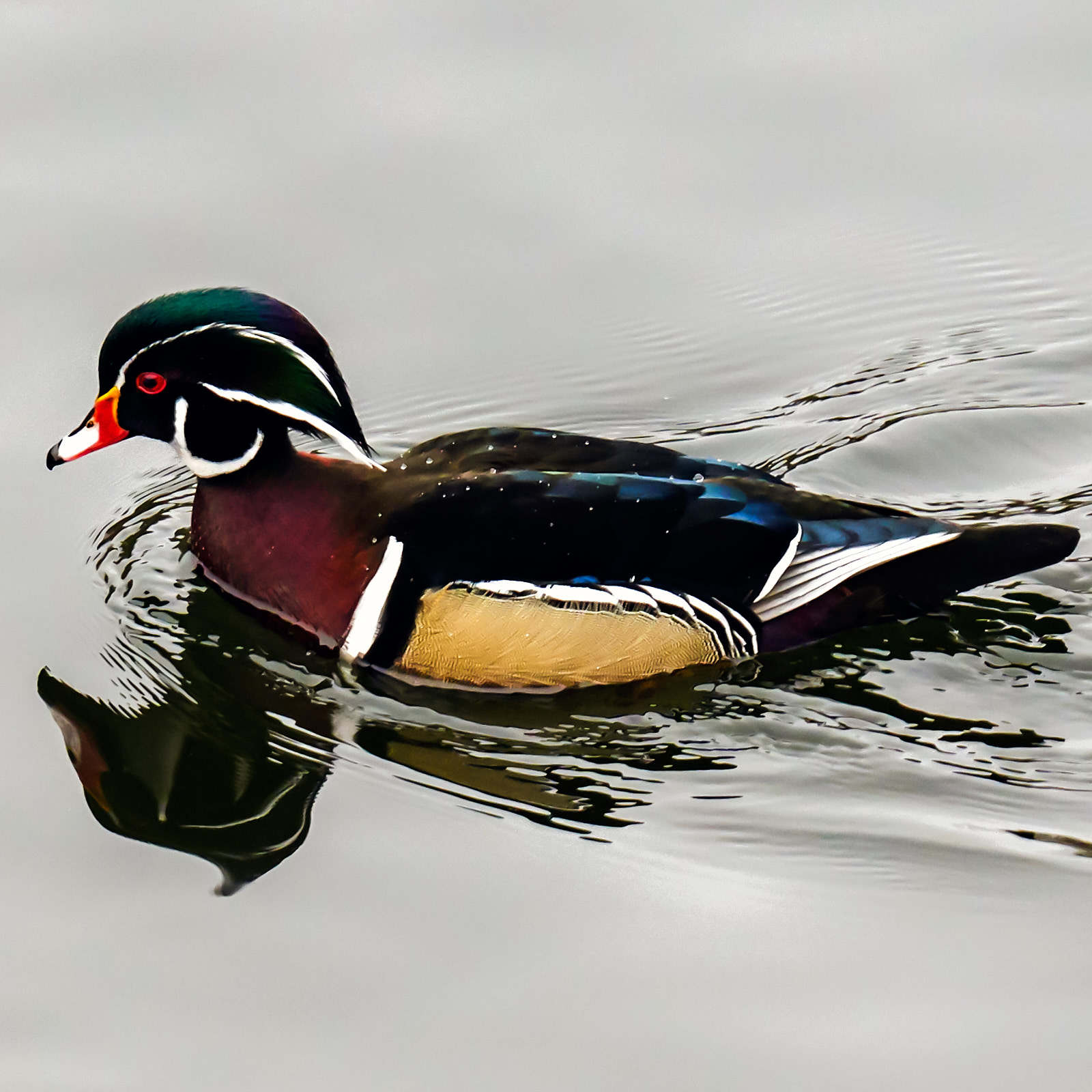 SIGMA's Adept Lens
Here's a portrait of me with the lens. It's surprisingly lightweight. Of course, they protect the lens from the elements as well with a water and oil-repellent coating on the lens. I'm sure if I spent even more time with it, I'd know the various switches by touch. I primarily shoot street and do so with a monopod. The 60-600mm works with Arca Swiss platforms for the instances in which I'm using a tripod.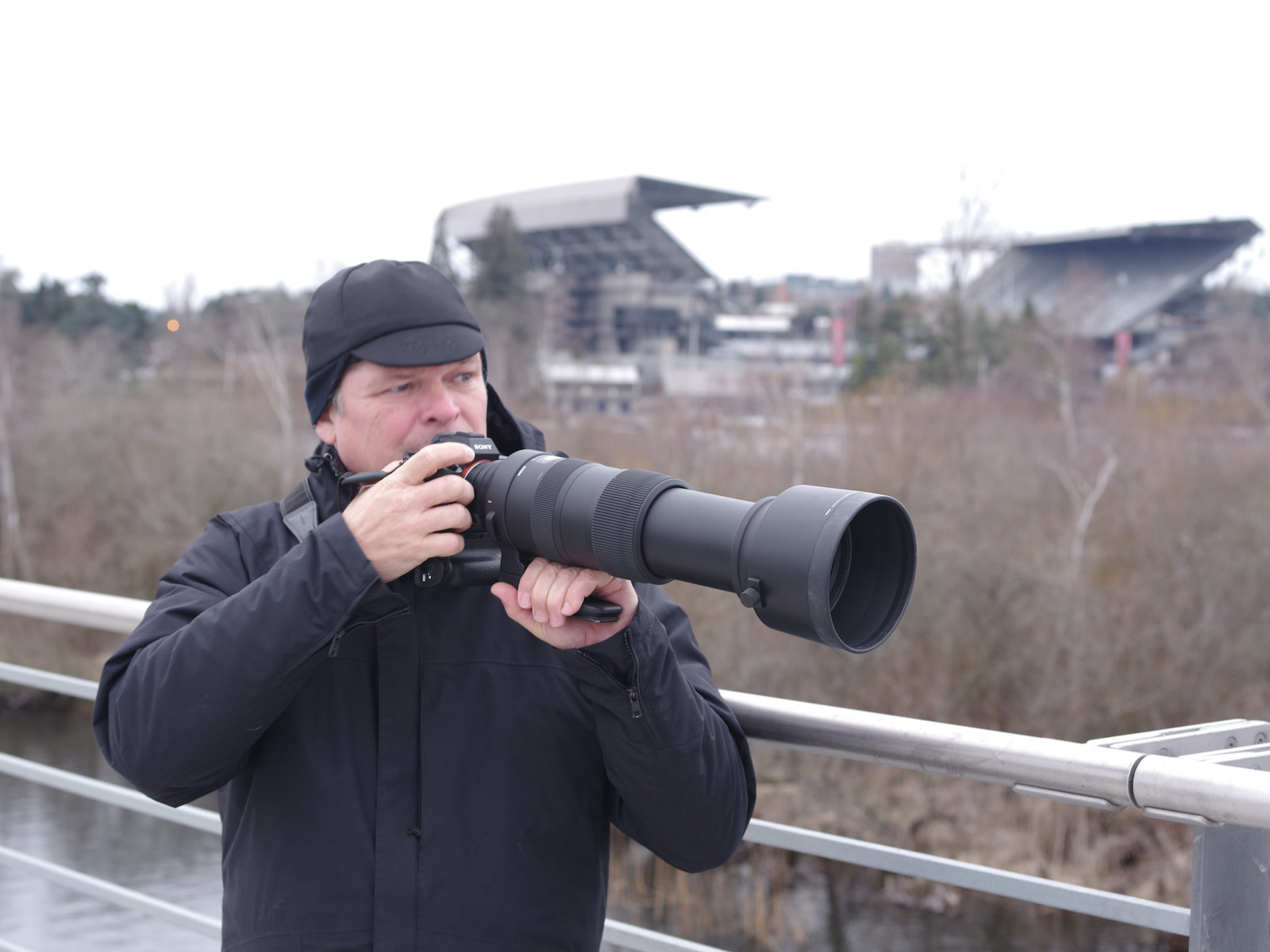 Fully Functional with the MC-11
All of the Sony autofocus functions work when connected to a body like the a9 using the MC-11 adaptor (Canon EF to Sony E Mount). It's not as fast as G Master—no other lenses are—but SIGMA's hypersonic motors are certainly fast enough for this locked-on shot of a heron landing.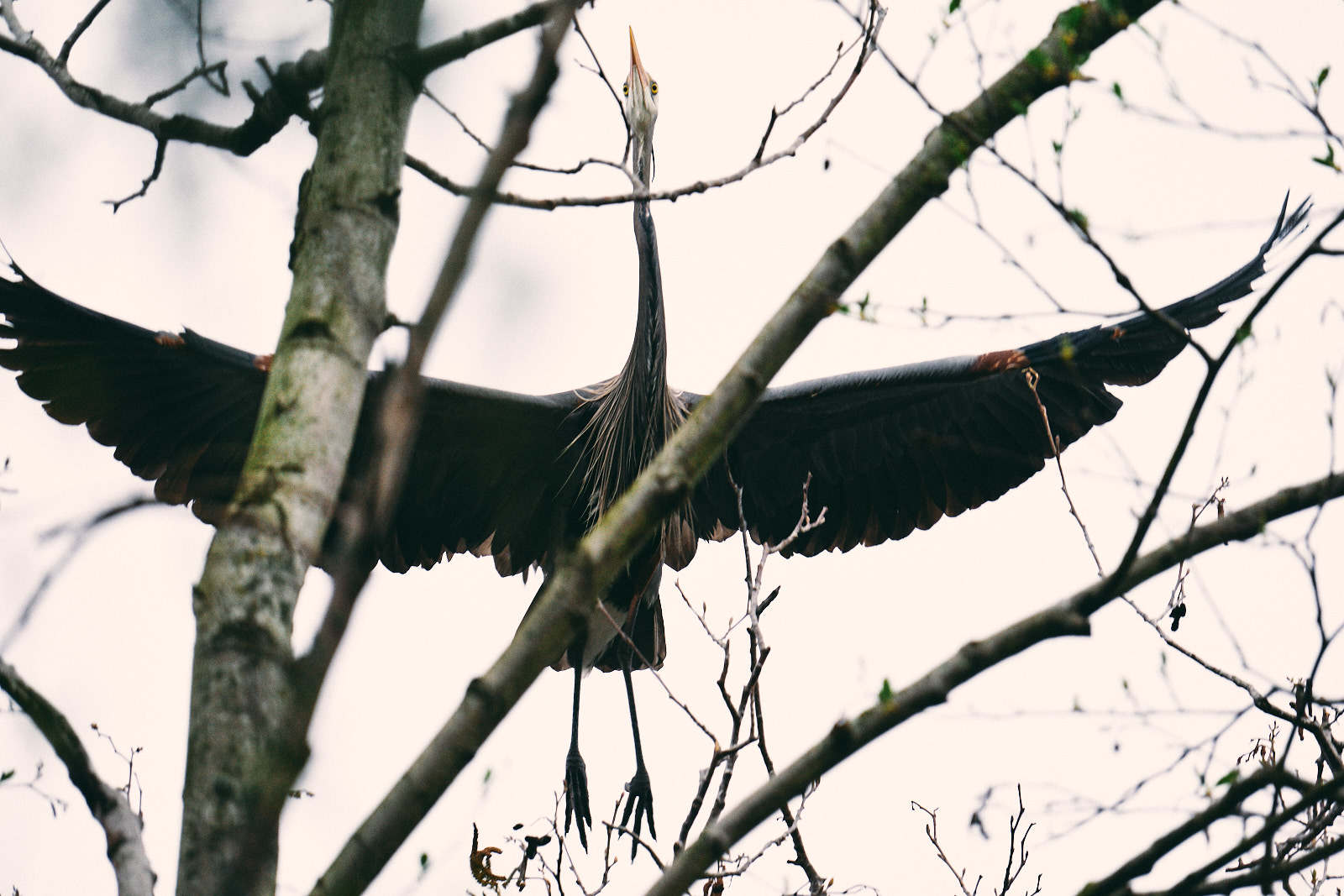 And this nesting pair.
Capturing The Viaduct Deconstruction
I had never thought of the Alaskan Way Viaduct as a buttress of Seattle's front door, but it looks like one now standing there empty, worn out, and awaiting demolition. With the sun drying the last pools of rainwater around the broken pillars, the viaduct offers short-lived comfort to Seattleites with a sentimental connection.
It might seem curious to an outsider why Seattlites are emotionally drawn to and take photos of an elevated concrete highway, but for us, it's a landmark we've interacted with our entire urban lives. Imagine if the Space Needle could somehow become a turnstile to the city—it was that significant. Seattleites passed through it on the upper/lower deck or below it while we mechanically turned the pages of our lives.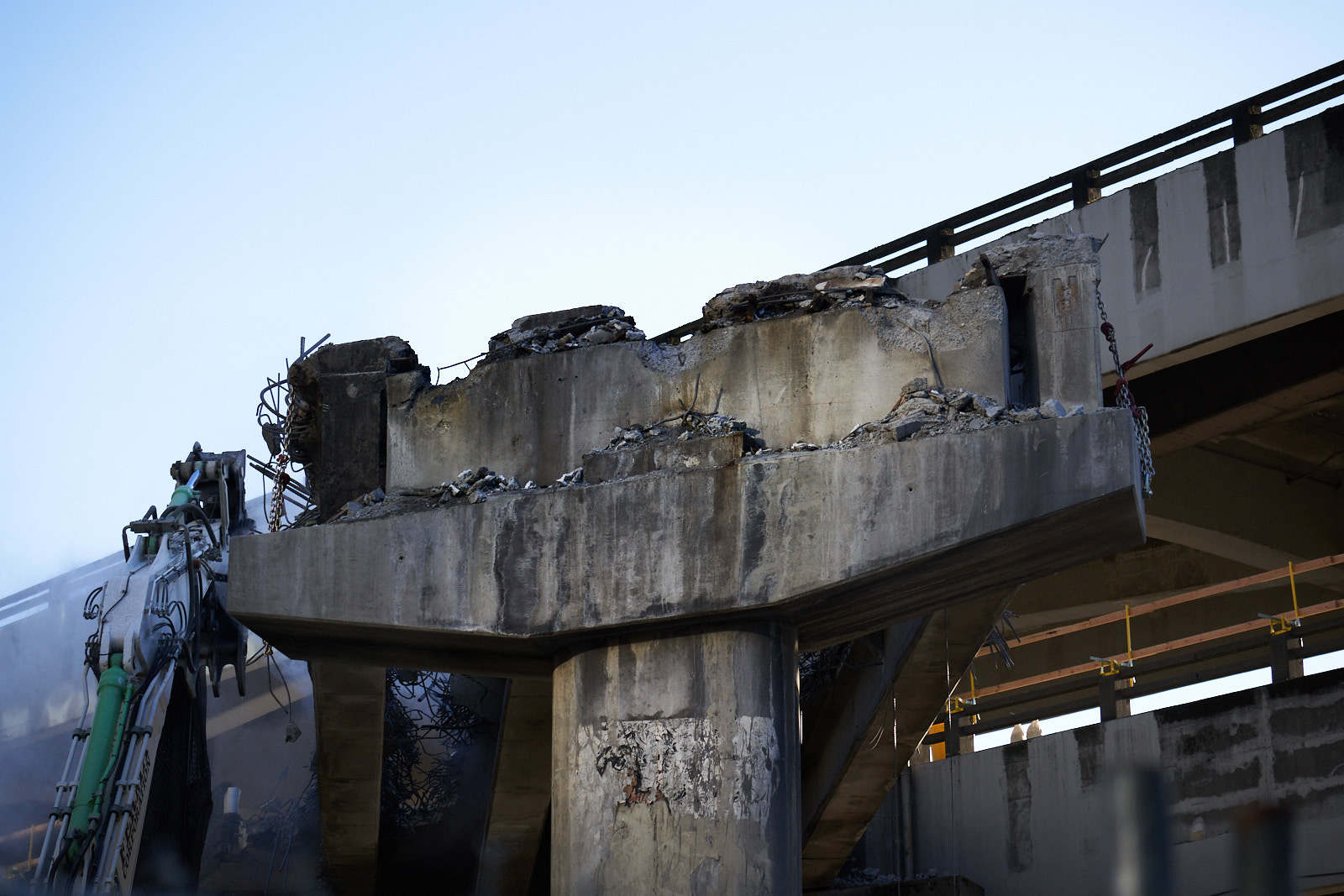 However ugly the broken concrete and exposed rebar is now, it's part of a shared Pacific Northwest experience. The Alaskan Way Viaduct still stands for another few months before it's replaced by a tunnel. The elevated highway along Seattle's waterfront was permanently closed on January 11.
As if I was at an airshow, the 60-600mm and a wide angle was all I needed to capture the deconstruction and reinvention of my city. Each chunk of concrete that drops puts another dollar in the pocket of a developer thanks to new views like this.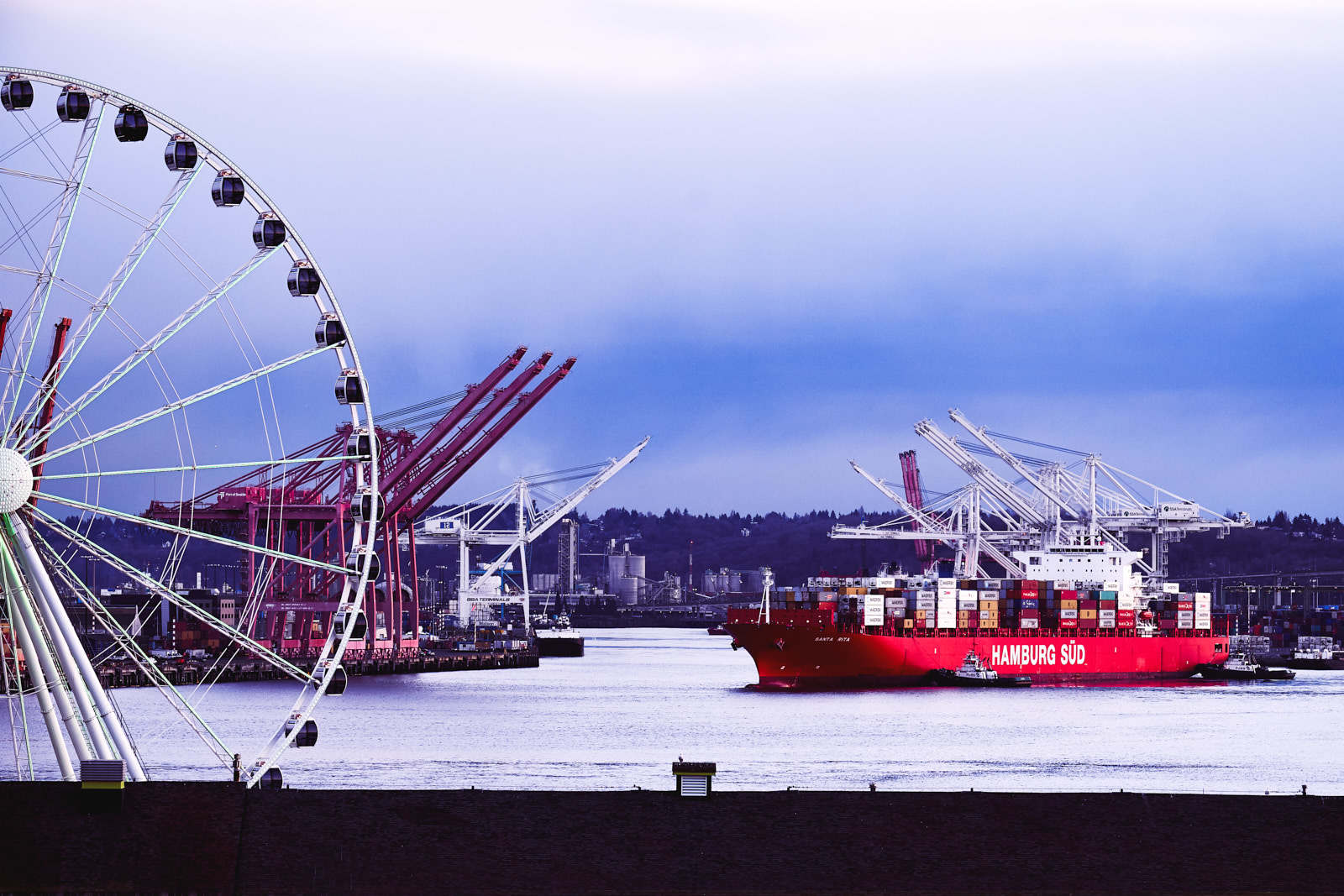 From a safe distance I was able to capture the look on a construction worker's face and share the details of how the structure is being taken down, piece by piece.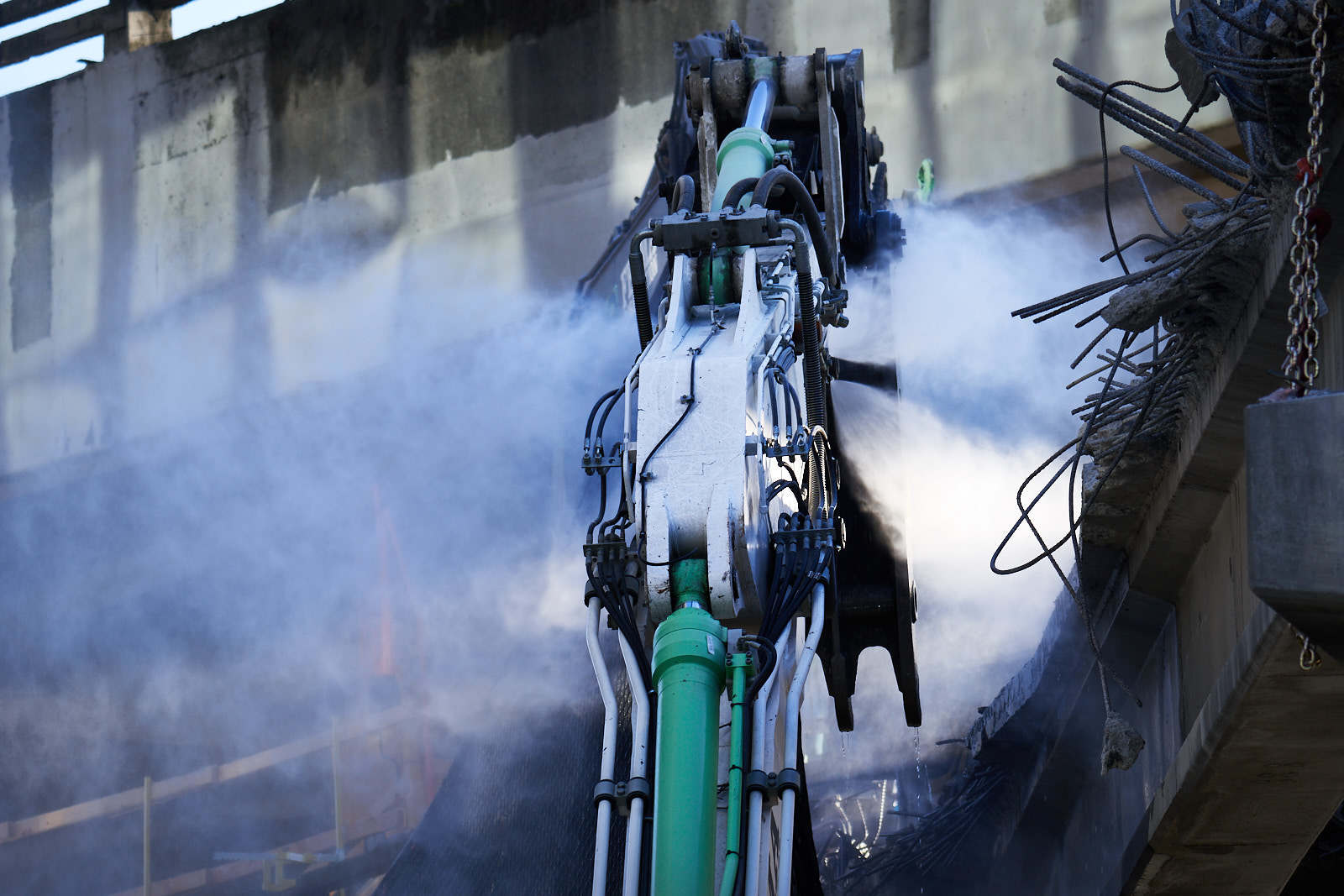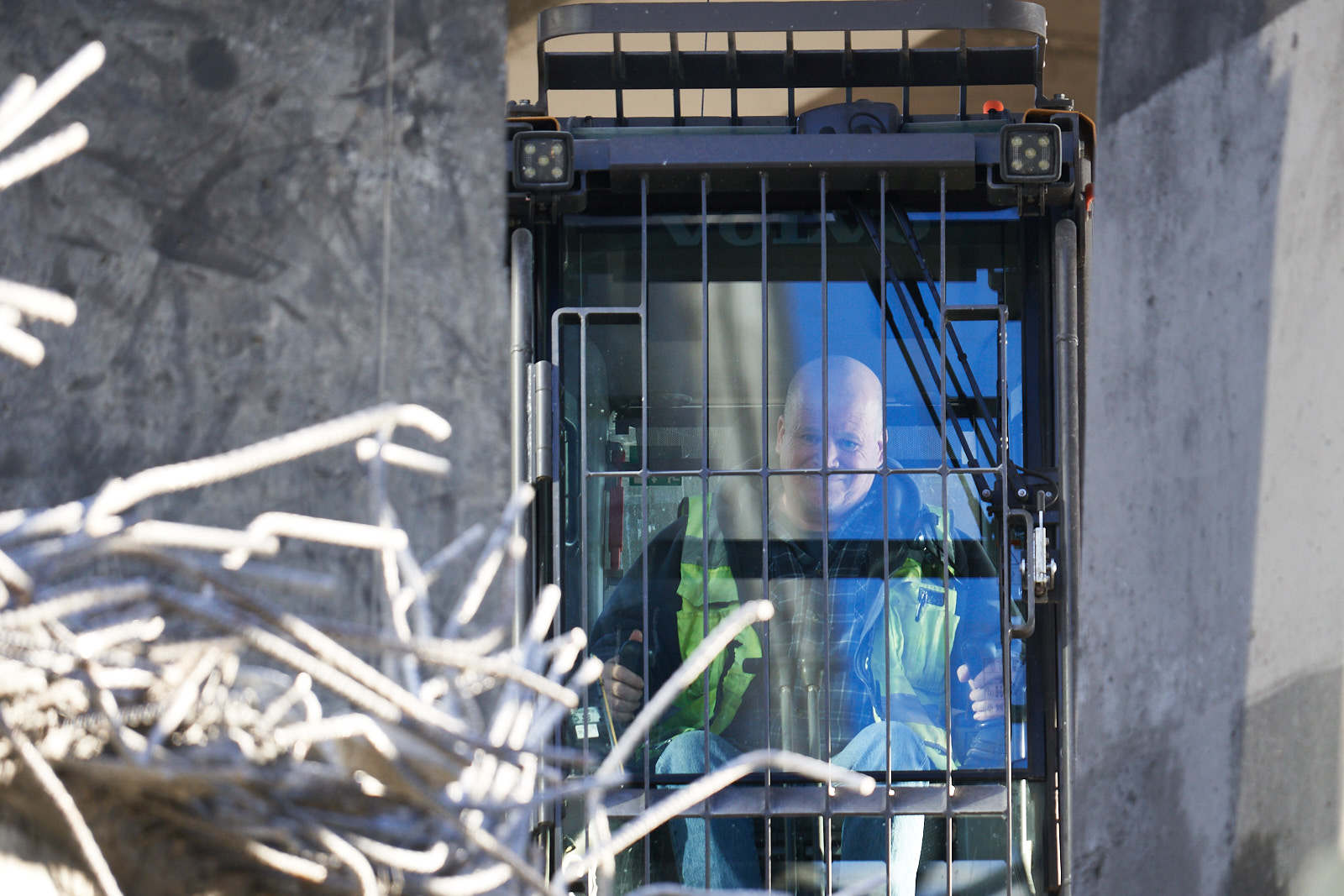 SIGMA 60-600mm Features
Incorporation of multi-material to achieve both portability and durability.
The world's first 10x optical zoom telephoto lens with a tele end of 600mm.
Dust and splash-proof structure with the water and oil-repellent coating on the front lens.
Tripod socket with high usability, 90° click stops and replaceable lens foot.
Manual Override (MO) capable of switching two full-time manual modes.
MC-11 Compatibility.
Whatever your subject matter is—I covered several around Seattle with this hyperzoom and Larry used one at an airshow—the SIGMA 60-600mm is going to get the shot and costs $1999. For most of the photos in this article, I paired it with a Sony a7iii for a total budget under $4k with the adapter.
Considering the range of SIGMA's adept offers, and the fact that it replaces other lenses, it's another great bargain that rivals a G Master in quality. Find the 60-600mm at a store near you or online from B&H for $1999.00. The SIGMA EF-Mount Lenses to Sony E adapter costs $249.00
More about the Sigma 60-600mm
…
My daily shooter is Sony A1 with a vertical grip and various Sony lenses attached like the FE 20mm F1.8. Find more gear recommendations in our shop. As an Amazon Associate I earn from qualifying purchases.