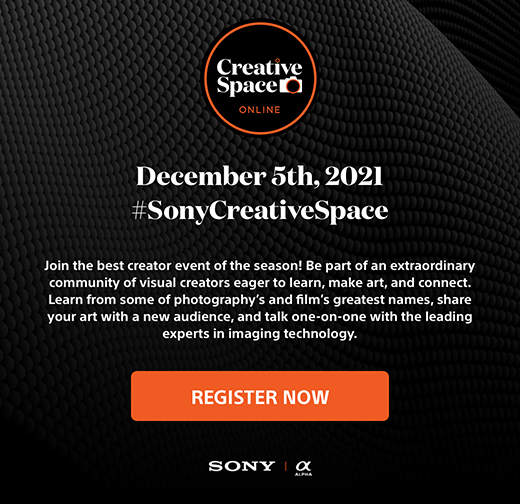 It's another Sony Creative Space weekend. Sony is running this free-to-attend educational event on December 5th. This event grew out of the in-person event that Sony held at PhotoPlus several years ago in NYC. What you need to know, besides all the great content, is Sony will be giving away

There are two entry chances: one for registering and one for attending. Register at Alpha Universe. If you didn't already know, Creative Space is not just any event. It's a launchpad for your creativity. Join an extraordinary community of visual creators eager to learn, make art, and connect with like-minded people looking to make a difference. Learn from some of photography's and film's greatest names, share your art with a new audience, and talk one-on-one with the leading experts in imaging technology.
Sony Creative Space Portfolio Reviews
The Sony Creative Space Weekend is free to attend, but you must register first. And, submit your portfolio for review. If your portfolio is selected for review, Sony will contact you before the event to ensure your present for the session.
…
My daily shooter is Sony a9 II with a vertical grip and various Sony lenses attached like the FE 20mm F1.8. Find more gear recommendations in our shop. As an Amazon Associate I earn from qualifying purchases.